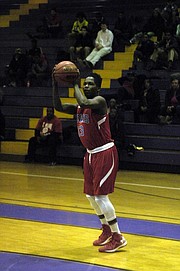 Bryan Hill was in the home locker room at T.C. Williams long after the final buzzer had sounded when a reporter approached in search of answers about Hill's first game as head coach of the Titans.
It was Dec. 5 and the T.C. Williams boys' basketball team had just suffered a 28-point beatdown at the hands of Wakefield, a talented and experienced team that had reached the state tournament each of the last two seasons. Hill, who previously coached at Ballou High School in Washington, D.C., talked about his players needing to break old habits and understand the importance of playing as a team. It appeared Hill had his work cut out for him, trying to turn around a proud program that had fallen on hard times.
Thirty-nine days later, Hill walked outside the visiting locker room at Lake Braddock and spoke with the same reporter. This time, the questions and answers were about a T.C. Williams team that had just won its fifth straight game and knocked off a 2014 6A North region finalist for the second time in five days.
Hill talked about understanding roles, maturity and defensive pressure.
It was Jan. 13 and it appeared the Titans had re-discovered the program's winning ways.
T.C. Williams jumped out to a 10-0 lead against Lake Braddock and never looked back, beating the Bruins 69-58 Tuesday night in Burke. The Titans used a combination of speed, defensive pressure and deadly perimeter shooting to outplay a foe with superior size. Lake Braddock, the two-time defending Patriot District/Conference 7 champion, never held a lead and trailed by double digits for the entire fourth quarter.
"I think that we've gotten a feel for what type of effort needs to be given to win," Hill said. "We have matured in a sense because guys are understanding their roles, and their role may be different from night to night based on the opponent. They're understanding the game is chess, not checkers. You can't just go run up and down and do whatever you want. You have to play the game with a certain level of basketball IQ to learn how to win games and finish contests."
After a 1-4 start, T.C. Williams has won five in a row. The Titans defeated two-time defending region champion Woodson 63-53 on Jan. 9 in Alexandria. On Tuesday, the Titans traveled to Burke and handled the Bruins, a team that reached the 2014 region championship game and entered Tuesday's contest with a 10-2 record.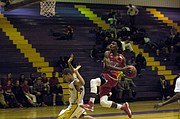 Led by 6-foot-8 junior James Butler and 6-foot-6 senior Reagan Jones, Lake Braddock entered Tuesday's game with a considerable size advantage over T.C. Williams. Butler finished with 28 points and 13 rebounds, and Jones totaled 13 points and nine rebounds, but the Titans kept the Bruins from maximizing their advantage through intense backcourt pressure.
T.C. Williams senior Andrew Hill and his fellow Titan guards came up with a slew of steals, helping to force 21 Bruin turnovers while limiting Lake Braddock's opportunities in the paint.
"Our mentality was to pressure the ball," Andrew Hill said. "They've got no guards out there. Nobody out there in this league right now is as quick as our guards, so we've got to keep the pressure up."
Andrew Hill led T.C. Williams with 27 points to go with his stifling defensive effort. His 3-pointer with 6:03 remaining in the third quarter sparked a 19-6 Titan run after the Bruins had cut the deficit to five points at 30-25.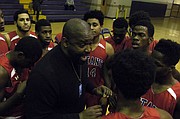 T.C. Williams junior Tavaris James finished with 21 points. James and Andrew Hill combined for 17 of the Titans' 19 points during their decisive third-quarter run.
"I thought they played well," Bryan Hill said about his pair of 20-plus-point scorers. "I thought that Andrew shot the ball well. Tavaris did a great job quarterbacking us tonight, getting us into the sets that we need to be in and getting the ball to the guys who are open in a timely manner. Tavaris is a very coachable kid and is getting better from game to game."
Junior guard Jordan Jones also scored in double figures for the Titans, finishing with 13.
T.C. Williams jumped out to a 15-2 lead and held Lake Braddock without a field goal until sophomore guard Corey Pelham knocked down a 3-pointer with 1:45 remaining in the opening quarter. The Titans led 17-6 at the end of one.
Butler scored nine points in the second quarter, helping Lake Braddock cut the lead four late in the first half, but a 3-pointer by T.C. Williams senior Curtis Jordan and a jumper by Jones extended the Titan lead to 30-21 at halftime.
"We're playing great, we just let this one get away from us early," Butler said. "[T.C. Williams is] a fast, athletic team. ... They're one of the best teams in the conference."
T.C. Williams (6-4, 4-1 conference) will host Lee at 7:30 p.m. on Friday, Jan. 16. Lake Braddock (10-3, 3-1) will travel to face South County at 7:30 p.m. on Friday.
How do the Titans maintain momentum?
"Remaining humble, understanding that the season is a process," Bryan Hill said, "and just focusing on the game in front of us."