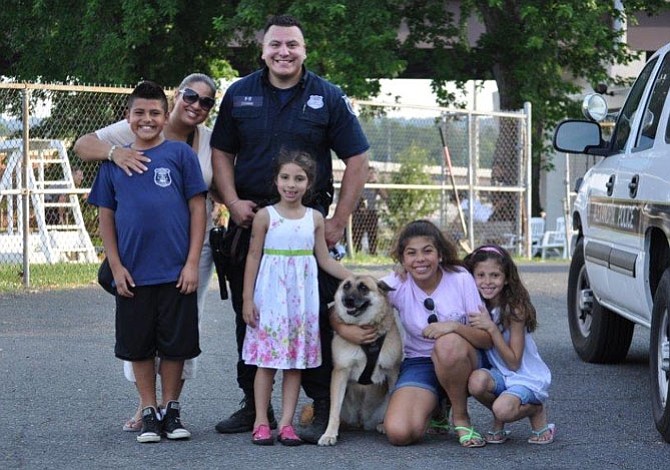 For more than a year, it looked as if she would defy the odds, but on Christmas Eve, Gracie, Alexandria's first female police K-9, lost her battle with kidney cancer.
"Gracie was not only an outstanding police dog, she was a great family dog," said APD K-9 officer Steven Escobar. "She has left a large void in our family."
Gracie, a 7-year-old German shepherd, served the City of Alexandria for five years. In November of 2013, she was diagnosed with kidney cancer and given only two to three months to live. But Gracie defied the odds and survived for more than a year, continuing to work with Escobar up until her death.
"I never owned a dog in my life until K-9 Gracie, so I wasn't familiar with the great bond that is created with having a dog," Escobar said. "When I was initially told that I was getting a female canine as my canine partner, I wasn't sure how it was going to turn out. But I quickly realized that having such a smart canine with an easy going personality was a perfect fit for me and my family."
Gracie and Escobar began training together in 2009 when Escobar was transferred to the APD's K-9 Unit. The pair graduated from Basic K-9 School in January 2010 and together worked the midnight shift for three years before being moved to the day shift. Gracie eventually became certified as a bomb dog and was named the top overall novice dog at the 2012 U.S. Police Canine Association's Region 3 Dog Trials.
"Through the experiences we shared through the initial 16 weeks of rigorous training and over the five years of patrolling the city I was able to realize the strong relationship that I had heard other canine handlers talk about," Escobar said. "Gracie was always excited to go to work. When she heard me getting ready for work, she would run over to the door, jump up against it and start scratching at the door ready to go."
Other awards for Gracie and Escobar include the 2012 and 2013 U.S. Police Canine Association Triple Crown Award (certification in tracking, explosive detector and patrol dog).
Escobar continues his K-9 work as handler for Zara, a female Belgian Malinois who was surrendered to the Animal Welfare League of Alexandria last year, recruited for the police force and is now an official Alexandria police K9. But he says Gracie will always be a part of his family.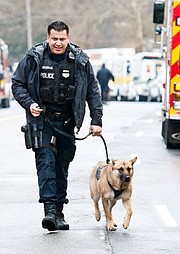 "I was devastated when I first learned of Gracie's diagnosis," Escobar said. "I immediately broke down and realized that Gracie was truly a part of my family and it hurt to hear that she would pass away in a few months. But Gracie lived over a year and deep down inside I feel it was because of the love that she had to get up to go to work and because of the love that she had for me and my family."
Escobar has asked that donations to be made in Gracie's memory to the Alexandria Police Foundation's Health and Welfare Program for Retired Police Dogs and the Animal Welfare League of Alexandria. The APF program provides insurance coverage and food for the City of Alexandria's retired canine "officers," who often face increased medical needs because of their demanding life of service.
"Gracie was not only an outstanding police dog, she was a great family dog."

— APD K-9 officer Steven Escobar
"I would like to thank the citizens of Alexandria along with my fellow canine handlers, members of the police department and the Alexandria Police Foundation for all the support they showed Gracie and my family," said Escobar, who also acknowledged Jason Swain of Billabong Art Studio for his portrait of Gracie. "Like my fellow canine handler Mark Wuckovich says, 'Dogs leave paw prints on our hearts' and I know that K-9 Gracie will always be watching down from heaven over me and my family."