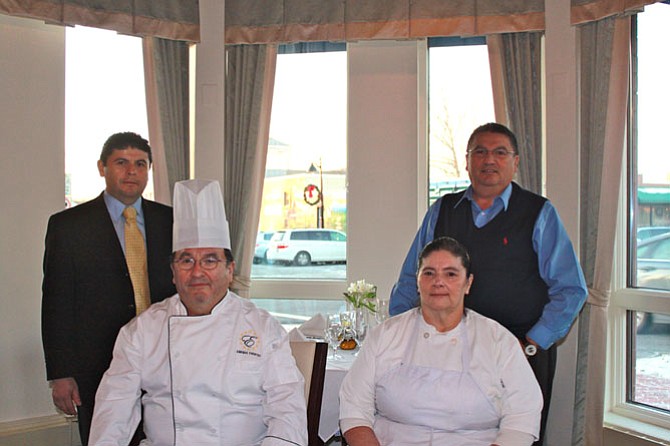 Europa isn't new.
It's just new to Herndon.
The Mediterranean restaurant, operated by the Fuentes family, moved from Tall Oaks Village Center and found a home on Station Street.
"We've been here for three months and business has been good," said General Manager Humberto Fuentes. "Our business here is better than in Reston."
He said the reason for that is because the clientele from Reston drive to the new location. In addition, Herndon residents - especially those who regularly walk around downtown, have grown to love Europa's mix of French, Italian and Spanish cuisine.
Humberto and 11 other members of his family immigrated to the country in the mid-1970s from El Salvador. In the years following the move, the siblings split up and worked in various European restaurants. In 2002, after collecting the skills needed to open a restaurant, El Manantial opened in Reston.
Chef Enrique Fuentes trained for 24 years under French chefs before El Manantial. His favorite meals to cook for customers include cassoulet and fish dishes.
"I like that kind of menu - simple and good and not too expensive," he said.
Although the restaurant was successful for a decade, Humberto decided to change the location.
"Because we knew something would happen to the center, we knew we had to move," he said.
With the change in location came the change in name. However, Humberto said the menu is not too different from the Reston location's menu.
"We have a really nice tapas menu," he said. "We have a lot of customers who come in for special items, dover sole, salmon and the very popular Italian white fish stuffed with crab."
In addition to tapas, Europa serves lunch, dinner and Sunday brunch.
Brunch items include Eggs Halifax with smoked salmon in place of Canadian bacon as well as a duck liver pate sandwich. Enrique's training shines on the dinner menu with the French dishes ranging from the goat cheese salad to escargot. Other European dishes include seafood paella, frutti di mare and roasted duck with raspberry sauce.
The white tablecloths and large wine rack give the restaurant a sophisticated air. Humberto said the vibe was purposeful.
"I get many phone calls asking me about the dress code," he said. "For me, it was a dream to build the restaurant the way it is - a cosy living room with a quiet atmosphere."
That does not mean customers typically come in wearing their most comfortable jeans. He said most customers tend to dress up, especially if they are celebrating anniversaries, birthdays or other special occasions.
One of the customers that have been to the restaurant since it opened in town is Mayor Lisa Merkel.
"Europa's arrival in Herndon has been a great addition to the fine dining options in our downtown," she said. "Humberto's warmth and enthusiasm is evident as soon as you walk in the door, and by the time you leave you feel like one of the family. I look forward to having them in town for years to come."
Europa is located at 790 Station St. For more information, call 703-437-4702 or visit http://www.europaherndon.com.