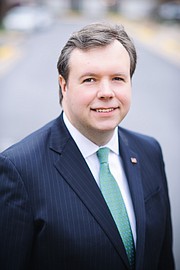 Centreville — Fairfax County Electoral Board Secretary Brian Schoeneman is running to fill the seat being vacated by Supervisor Michael Frey (R-Sully), who announced his retirement Monday night.
"Having spent the last two years supervising elections in Fairfax County, I realized that I could better serve my community by putting my name on a ballot, rather than continue counting them," Schoeneman said Tuesday. "I look forward to working hard, earning the Republican nomination and running a successful campaign through November."
Schoeneman, a Republican, has served over the last two years as vice chairman and later as secretary of the Fairfax County Electoral Board. In 2011, he ran for Virginia House of Delegates against Del. David Bulova (D-37) in a district that included portions of Sully. He also serves on the Fairfax County Economic Advisory Commission and was a member of the Bi-Partisan Election Process Improvement Commission established by the Fairfax County Board of Supervisors following the 2012 Presidential Election.
"As a Republican, I have long advocated for balanced budgets, low taxes, reducing the crushing burden of regulations on Fairfax employers, expanding economic development to bring good jobs to Fairfax County, and fighting to ensure that Fairfax County remains the best place to live, work and raise a family," he said. "If elected, I hope to continue my record as a transparent, accessible and honest public servant. I plan on spending the next 11 months meeting the voters of Sully District and demonstrating to them I have the common sense, good judgment and experience to serve them as their county supervisor."
The Sully Magisterial District, which encompasses Centreville, Chantilly, and portions of Clifton and Oakton, has been represented since its creation by Frey, who announced his intention to retire after six terms on Monday.
"I've been privileged to know and work with Michael over the last five years. He was very helpful to me during my campaign in 2011, where we spent weekends door knocking together, and in my time on the Electoral Board he has been a welcome resource. No one will be able to fill his shoes, but I look forward to the opportunity to succeed him and continue his excellence in constituent services."
Under Virginia law, Electoral Board appointees are forbidden to run for office. In order to comply with the law, Schoeneman will be resigning his seat on the Fairfax County Electoral Board on Wednesday. His replacement will be chosen by the judges of the Circuit Court of Fairfax County.
Schoeneman, 37, is a resident of Centreville's Virginia Run community, where he lives with his wife KayAnn and their son Nicholas.