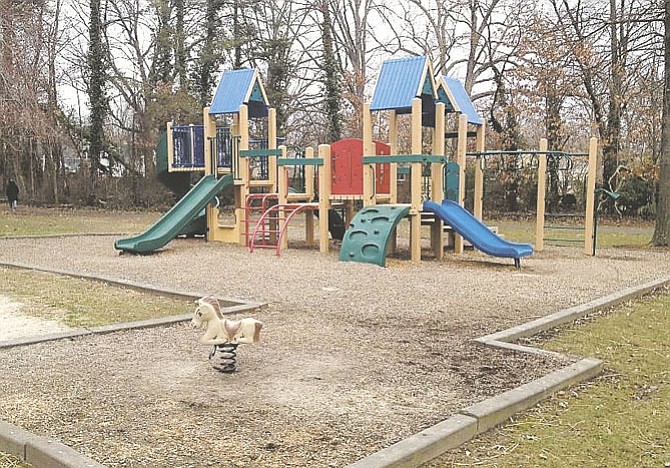 With an eye on the upcoming City of Fairfax budget decisions, various department heads recently presently their FY 2016 Capital Improvement Program (CIP) wish lists to a joint work session of the City Council and Planning Commission.
First up to bat was Parks and Recreation Director Mike McCarty. His highest priorities are an ADA accessibility audit and plan, a Green Acres feasibility study and a Van Dyck Park stormwater and master plan.
"ADA accessibility to the City parks and their amenities is a critical need," he said. "Green Acres was built in 1960-61 and has accessibility and use issues, and it needs more than quick fixes, going forward. And there's lots of erosion in the northwest corner of Van Dyck Park, near the tennis courts, and it also has access and parking issues."
Brian Knapp, chairman of the Parks and Recreation Advisory Board, said these three studies "really need to be done, and we don't have the people to do it in-house. We're one of the only jurisdictions in Northern Virginia that doesn't have ADA-compliant parks, and the Department of Justice is going to get on us about this."
AS FOR GREEN ACRES, he said, "We do all the other things we can't do at the Sherwood Center at Green Acres. And Van Dyck State Park will close in a year or two without the study and fixes."
McCarty also said maintenance funds are needed to replace the playground equipment at Kutner and Ranger Road parks and the bridge at Providence Park. The bleachers at Pat Rodio and Kutner parks must be replaced, as well as the fencings at Pat Rodio and Thaiss parks and Providence Elementary's ballfield.
Regarding the bleachers, he said they "don't meet safety standards; this would bring them up to speed." He's also requesting $30,000 for a portable band shell for Old Town Square "so performances could be done at the park and sound could be projected. And since it's portable, it could easily be used at other parks, too."
After hearing the presentation – which also included trail and restroom projects – Councilwoman Ellie Schmidt asked Knapp and McCarty to make a list of "the most important work to be done, from a safety standpoint." And Councilman David Meyer said he believes "there's support out there to invest in our public facilities."
Councilwoman Janice Miller asked several questions, including: "How many playgrounds need equipment? How does the equipment differ from park to park? Where are the current pavilions and where are future ones planned? How many restrooms do we need, how much will they cost and how will they be maintained?"
"We're looking at spending $220,000 over the next five years to plan the Green Acres and Westmore sites, and we might need Green Acres someday for an elementary school," she said. "And where could we put another recreation site in the city? Can a community group look at this first, and then, a consultant?"
Mayor Scott Silverthorne suggested McCarty and Knapp take all these questions under advisement. However, he added, "Green Acres is long overdue and we should do something about it."
Historic Resources Director Chris Martin also made his pitch for funds, and three of his projects involved Historic Blenheim, a 12-acre site including a brick farmhouse built just before the Civil War. He asked for $65,000 to reconstruct the building's steps and porches so an ADA ramp may be installed. "It'll make the house ADA-accessible," he said. "The cost includes design fees."
Also on his CIP request was $75,000 to stabilize and drain the facility's parking lot. "Due to heavy usage from the museum renovation and building rental, we're re-engineering the lower Blenheim parking lot," said Martin. "And it's basically unplowable in snow; the parking lot eventually turns to mud."
He further asked for $85,000 for the Krasnow Barn reassembly and site-preparation. "The barn was disassembled and is being stored in a deteriorating trailer, and we'd like to get it back up," explained Martin. "It would provide a new attraction for the Blenheim site and a place where groups could hold meetings."
IN ADDITION, Martin's requesting to replace the museum van in the Public Works fleet. "It's a 1996 van that didn't pass inspection and is too large and unsafe to use, anymore," he said. "So we'd like to get a minivan and have the museum's name on the side and to also use for tours of the City."
Councilwoman Nancy Loftus asked if a City vehicle could be repurposed for the replacement van, and City Manager Bob Sisson said they'd check. Regarding Blenheim's parking lot, Loftus asked, "Are we increasing the amount of parking spaces, as well, or just improving the lot?"
Martin then replied that "the overflow parking lot would add 25 new spaces to the 36 existing spaces."