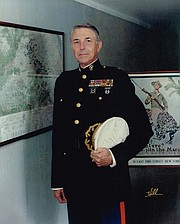 Col. Peter L. Hilgartner, USMC retired, died at Brightview Assisted Living on Jan. 8, 2015, in Great Falls, at 87 years of age. Funeral services are being held Saturday, Jan. 24 at 10:30 a.m. at Christ the King Lutheran Church, 10550 Georgetown Pike, Great Falls. Visitation will be Friday, Jan. 23 from 6-9 p.m. at the church. His burial at Arlington National Cemetery will be scheduled. Donations made in his honor, should be made to the Semper Fi Fund, (https://semperfifund.org), or to Christ the King Lutheran Church.
Peter Hilgartner was born in Austin, Texas in 1927. He graduated from St. George's School, Newport, R.I. in 1945, then enlisted in the Marine Corps. He then went to the U.S. Naval Academy graduating in 1951 and was commissioned a 2nd Lt. in the U.S. Marine Corps.
In the Korean War from March 1952 to March 1953, he served as an artillery forward observer, and received the Bronze Star with combat V.
In Vietnam, he commanded the 1st Battalion, Fifth Marine Regiment, the most decorated combat infantry battalion in the U. S. Marine Corps. From November 1966 to September 1967, his battalion fought in every major action which occurred in the 1st Marine Division sector during that time. During this time he was decorated with the Silver Star, the Legion of Merit, and Vietnamese Cross of Gallantry with Palm, and with Gold Star (two awards). Under his command, his unit received two Presidential Unit Citations.
He returned to Vietnam for a second tour of duty as a staff officer in Saigon, after which he obtained a master's degree in management from the Naval Postgraduate School, Monterey, Calif. He retired from active service with the rank of colonel in May 1972.
He then began a new career in the brokerage investment business, becoming a vice president of Investments with Legg Mason Wood Walker, Inc. in 1981. He retired a second time in 1998.
Col. Hilgartner authored, with Sam Ginder, "Highpocket's War Stories and other Tall Tales," an autobiography, and authored "Buckshot and the Boy," a cowboy story. Col. Hilgartner was a member of the Order of St. Crispin, an honorary association of combat Marine Corps Infantry officers.
In his community, he made significant contributions as the chairman of the Great Falls Memorial Committee after 9/11/2001, past president of the McLean Rotary Club, founder and past president of the Northern Virginia Brittany Club, as a qualified hunter education Instructor, and as a committed Christian.
The patriarch of his large extended family, Peter L. Hilgartner is survived by his wife, Sara Hilgartner, his five children by his first wife, Frances Haynes Hilgartner: Linda Bassert, Diana Boyd, Dale Cirillo, David Hilgartner, and Paul Hilgartner, 10 grandchildren, five great-grandchildren, his stepson Greg Fernlund and four step-grandchildren. "Uncle Pete" was also a loving uncle and grandfather to his deceased brother Fielding's 5 children and 11 grandchildren.