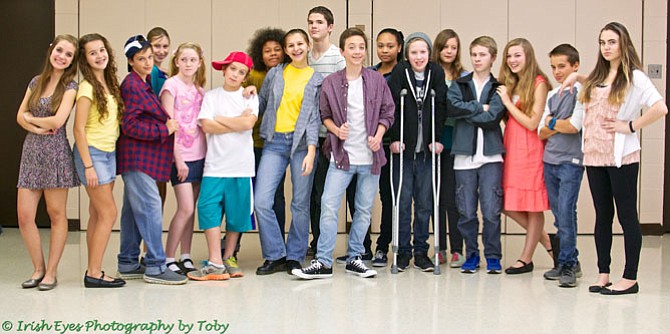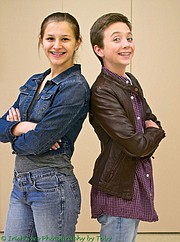 Where and When
McLean Community Players present "13" at the Alden Theatre, McLean Community Center, 1234 Ingleside Ave, McLean. Performances: Jan. 30 - Feb. 15, 2015. Fridays and Saturdays at 8 p.m., Sundays at 2 p.m. Tickets: $23-$25. For tickets call OvationTix customer service toll-free: 866-811-4111 or visit: http://www.mclean...">www.mcleanplayers.... Note: Through a cooperative agreement with the Metropolitan Washington Ear, audio description services are provided for those with visual challenges.
"I face the world for what it is, and not what I wish it could be" are key lyrics from the McLean Community Players (MCP) production of the musical "13." With rock-infused music and thought-provoking lyrics by Tony Award winning Jason Robert Brown, "13" is about the challenges of growing up.
For the McLean Community Players, producing "13" was "a great opportunity to work with younger performers in the community," said co-producer Laura Dailey. With its "insightful" score of nearly 20 songs, Dailey added, "the lyrics resonate as lessons we should take to heart at any age."
With a book by Dan Elish and Robert Horn, the show chronicles the story of Evan Goldman, a New York City boy whose life is on the cusp of teen-hood. Evan finds himself dealing with a divorce, trying to fit in with the cool kids at a new school in an Indiana town, and one other major event … his impending Bar Mitzvah.
The MCP production of "13" includes a seasoned, yet all adolescent cast of 17 between the ages of 12-16. Selected through an open audition, the cast members include students from Northern Virginia schools such as Langley High School, McLean High School, Frost Middle School, Longfellow Middle School, Rachel Carson Middle School, Thoreau Middle School, Spring Hill Elementary School Our Savior Lutheran and the Metropolitan School of the Arts.
Director Kevin Sockwell wanted to direct "13" because it is "a fun, emotionally engaging show" and it "speaks of a time when most of us first ponder questions about who we are, what we want from life and what is our place in the world.
"As adults, if we're lucky, we learn it was never about a destination, but about the lessons learned on this journey we call life," added Sockwell. In describing the youthful cast he said "their energy, enthusiasm and dedication are amazing and a privilege to behold."
"It's easy to be fooled by the rock-song aesthetic of '13', but from the very first bar of the first number, Brown weaves musical threads that correspond to plot points all throughout the show," said music director Itai Yasur.
Langley High School freshman Cuinn Casey (playing Evan) called "13" an "upbeat musical about coming-of-age that is great for all ages." Cast member Tori Garcia called it a "perfect example of what being a teenager really is."