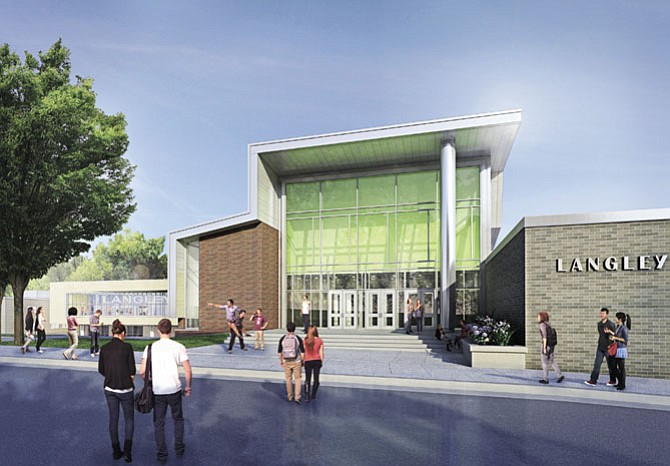 Phase one of Langley High School's renovation project has begun.
The building, built in the 1960s, will receive its first major overhaul in an effort to update the building to create a more effective learning environment for students.
"It's an exciting renovation," said Jeffrey Platenberg, Fairfax County Public Schools Assistant Superintendent for Facilities and Transportation Services. "It's an old facility in need of an upgrade."
The School Board approved the $59.7 million contract for Dustin Construction at its Nov. 17 meeting.
The complete renovation is expected to take about three years. According to a letter Assistant Principal Jim Robertson sent to parents this month, light demolition in the auditorium, auditorium lobby and the old main entrance lobby began last week. These areas were closed off from students and staff as a safety precaution.
"As of this writing, Dustin Construction is awaiting approval of a permit through the Virginia Department of Transportation (VDOT) that will allow them to move their equipment on site and begin construction," Robertson stated in the letter sent Jan. 9. "We have been told that will take two to three weeks."
Kevin Sneed, FCPS Director of Design and Construction Services, said the renovation will add 23,000 square feet to the school.
"It's designed to hold approximately 2,100 students," he said.
Among the most significant parts of the renovation are an addition for the science wing and making the cafeteria more tech-savvy. There will be a space added where students can take their meals and use their electronics to check social media or get a head start on homework.
The update will also include electrics and plumbing to make sure the school is working as cost-efficiently as possible.
On the outside, the courtyard will be used as a learning center and an amphitheater will be built near the music department. A more modern entry way will be built at the front entrance. The lobby will have space to become a gathering space for students or a meeting area for community members. Additionally, the theater will be converted into a state-of-the-art performance center.
"Right now, it's not a very distinct building," said Sneed. "It really will look like a completely new building."
Because part of the renovations will take place during the school year, there will be safety precautions in place.
"We have to design the building construction around the safety of the students," he said. "Regardless of what we're doing, it's going to remain a school."
A hygienist will visit the school about every week to study samples to ensure the air is not contaminated outside the work zone. Special ventilation and barriers — some completely blocking off certain wings of the school — will be added so students do not go into those areas outside of construction hours.
"The most important thing to us is to make sure students are safe at all times," said Sneed.