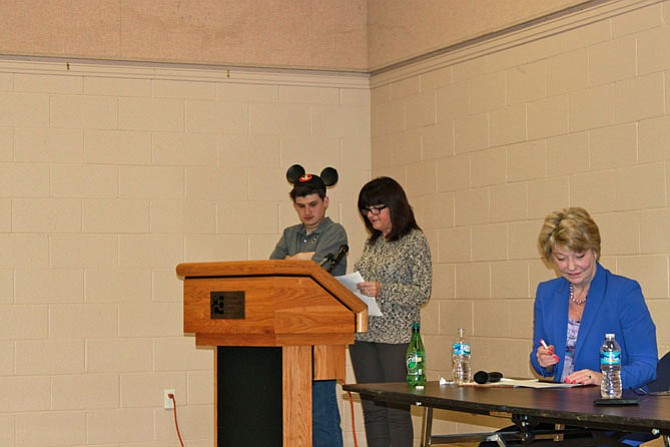 Six local state legislators listened to the concerns of a room full of people last Saturday.
Several delegates and state senators took part in a Town Hall meeting on Jan. 17 at the McLean Community Center to talk about some of their bills and find out what issues their constituents thought were important.
"We are representing your views, your values," said Del. Mark Keam (D-35).
The other legislators at the meeting were state Sen. Janet Howell (D-32), Del. Rip Sullivan (D-48), Del. Marcus Simon (D-53), Del. Kathleen Murphy (D-34) and state Sen. Barbara Favola (D-31).
At the beginning of the meeting, the legislators talked briefly about what they have been doing in the short amount of time the General Assembly has been in session.
Simon said he was asked to carry the one handgun a month bill because of his work on the handgun safety committee.
He did not mention the bill he introduced to raise the minimum wage to $15.15. The current minimum wage in the state is $7.25.
Favola said she will be focusing on child care issues and a bill to end sexual violence on campuses across Virginia.
Newcomer Murphy mentioned her excitement for everything down in Richmond.
"I have been your delegate for a week, and it is the most gratifying and rewarding thing ever," she said.
Howell said the fact it is an election year could make the session interesting.
"It has the possibility of being a fascinating, fascinating session," she said.
Many community members told the legislators just what they should do with rest of their session.
Sharon Cummings, local mother and advocate, talked about a bill she wants the legislators to push called Conner's Law, which has divorced spouses to pay child support for children with autism.
"There's no magic age where children start learning," she said, noting that her 22-year-old son, Connor, just learned how to tie his own shoes.
Another advocate for loved ones with disabilities, Anne Bolster talked about the value of Northern Virginia Training Center, which is scheduled to close next year. She was among a handful of people at the meeting to ask legislators to keep the center open or find an alternative for the most fragile clients.
"I'm the older sister and legal guardian of a client of NVTC," she said. "She has lived there for 40 years. It is her home."
She said that the law closing the center wants the clients to integrate themselves into the community, a feat she noted would be impossible for people like her sister.
"There just aren't enough IFC's in the community for these people to move into," she said.
Al Robinson told the legislators that they should remember they represent the people in their district.
"Remember the interests of the taxpayers," he said.
Jack Crosby, representing Wolf Trap Woods, came to the meeting to discuss the future of the Route 7 widening project.
"It's going to be major work," he said. "We have very serious concerns. We are concerned about the exits and entrances of our neighborhoods."
Some of the exits to neighborhoods along Route 7 tentatively may only be able to turn one way, then do a U-turn.