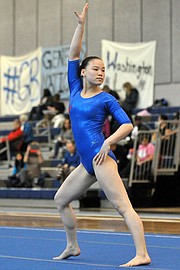 For the second time in three decades, the T.C. Williams gymnastics program is fielding a complete team, which requires a minimum of four competitors.
In 2014, TC's first full team since the 1980s captured the Conference 7 championship, crushing second-place Woodson by more than 10 points.
This year, despite the graduation of conference all-around champion Holland Cathey, the Titans are hoping to secure one of the conference's two regional berths during the Conference 7 championship meet on Feb. 4 at Lake Braddock Secondary School.
Part of what made the 2014 T.C. Williams team so strong was each of the four gymnasts competed for the same club team — the Arlington Aerials. After Cathey's graduation left TC with three gymnasts, the Titans looked to another Aerials teammate to complete the roster — Minnie Howard freshman Schyler Vander Schaaf.
Vander Schaaf joined seniors Grace Girard and Jordan Mambert, and sophomore Cailyn Lager.
"I knew I had to [join the Titans] because they wouldn't have a team without me, so I'd feel really bad if I said no," Vander Schaaf said. "I always knew that I could do it."
Like last season, the Titans have not consistently had four gymnasts compete during regular-season meets. However, TC has won each of the three meets this season in which it had a complete team.
On Jan. 22, TC won a six-team meet at West Potomac High School, posting a score of 134.475. Westfield finished second (124.7), followed by West Potomac (112.225), Thomas Jefferson (104.725), Falls Church (81.025) and Centreville (80.75).
Lager won the all-around (35.025), Girard placed second (34.9) and Mambert was third (34.325).
Two days later, Lager, Mambert and Vander Schaaf competed in the Barbara Reinwald Invitational at Washington-Lee High School. The Titans placed third as a team (top-three format) with a score of 97.725, finishing behind W-L and Yorktown.
Lager placed fifth in the all-around (34.925).
"Holland was really good last year and she carried us and she's gone now," Lager said, "but I think we're still really good as a whole."
Titans head coach Pete Novgrod said Lake Braddock is considered the favorite to win the conference title, though T.C. Williams, South County and West Springfield could challenge for the championship and one of two regional berths.
"I think they can make regionals," Novgrod said of the Titans. "I think it's going to come down to a three-way battle, maybe four."
Girard, the defending conference beam champion, was the only gymnast competing for T.C. Williams during her freshman year in 2011-12. Girard said she's pleased the Titans were able to field another complete team.
"It's my senior year and I was hoping that we'd finish out with a whole team so we'd have a chance to go further than districts," she said. "It's exciting that it didn't end so quickly."