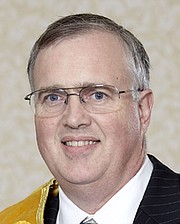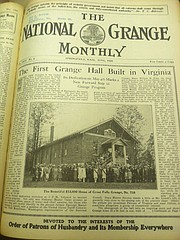 The newly renovated, handicap-accessible Grange will be reopened on March 7 at 10 a.m., during the Great Falls Farmers Market. John Foust, and Fairfax County Park Authority officials will be present to welcome a new era of community activity and cut the ribbon on the newly renovated facility.
Ed Luttrell, a native of Sandy, Ore., who was elected the 22nd President of the National Grange in November of 2007, will come to the re-opened Grange in Great Falls on March 11. A second generation Granger, he is the immediate past Leadership/Membership Development Director for the National Grange.
Luttrell is a fourth generation Oregonian. He grew up on a small farm outside of Portland in Shoals, Ore. He is a graduate of Hillsboro High in Hillsboro, Ore. and spent time studying livestock management at Linn-Benton Community College in Albany, Ore. He has worked in agriculture, automotive services and publishing.
He and Celia, his wife of 34 years, have three grown children: Ben, Jacob and Charlotte, as well as two grandchildren. They are members of the Boring-Damascus Grange No. 260 and Clackamas Pomona Grange.
Luttrell has extensive Grange experience including Oregon State Master from 1996 to 2000. His Grange accomplishments started in 1978 when he was named Oregon's Outstanding Young Granger. He served on the Oregon State Grange Membership Committee from 1986 to 1988 and was Oregon State Gatekeeper from 1988 to 1992. He and Celia were Oregon State Grange Outstanding Young Couple in 1989. Ed served as State Youth Director from 1990 to 1992 and as Editor of the Oregon Grange Bulletin from 1992 to 1996.
In the past, he has served on the boards of the Oregon Lands Coalition, Grange Mutual Insurance Company and Timberland States Insurance Company. He is also a former 4H and FFA member.
Luttrell's vision for the Grange is to strengthen the partnership between the State and National levels of the organization, in order to aid the Community Granges in achieving their goals. Promoting growth through new Granges, reorganizing inactive Granges and revitalizing existing Granges is a primary focus of his team building efforts.
When time allows, Luttrell enjoys restoring old cars and trucks, hunting and camping. More than anything, he loves genealogy and finding connections from his family tree across the country.