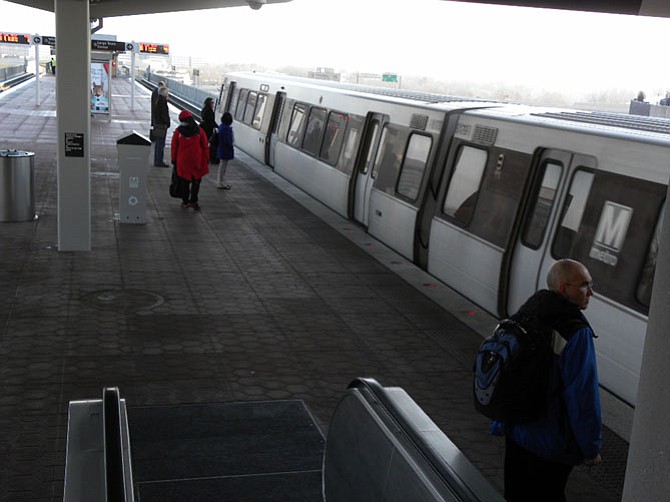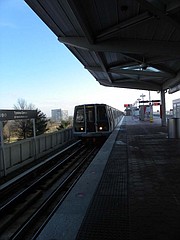 For riders and users of the Silver Line, the impact of the new stations, which opened on June 23, are on accessibility and options. Michael Caplin, executive director of Tysons Partnership, an association of business, government and community leaders, said that the Silver Line "turbo-charged the community."
He said that people now have an easier way to reach Tysons Corner. "People are shopping here, applying for permits, looking for jobs here."
O.G. McClinton said that the Silver Line made the outskirts of the city more available to him for work. He used to drive from his home in Hyattsville, Md., to his job in Tysons II. Now he takes the train. "This is real convenient," he said. For those who work in Washington, D.C., Seda Yener, of Fairfax, said that the new stations made the city more accessible.
The five new stations also gave residents options in how to get where they need to go. Brennan Price, of Vienna, can now choose between the Orange and Silver lines. "In Vienna, I feel that Metro is not as prevalent. Since the Silver line has come in, I find that I have two options in getting here." He does not often take Metro but when he does he said that the bus transportation coming to downtown is "a little more friendly coming to the Tysons station than the Vienna station."
However, there has been collateral disadvantages with the arrival of the Silver line.
"We would like to see focused attention on the noise that is created," said McLean Citizens Association (MCA) president Sally Horn. She said that residents who live on the path of the Silver Line, particularly on the Dulles Access Road to Route 123 curve, experience rattling windows when the trains pass by. "It's loud…We want a serious address and mitigation to this issue," she said.
MCA also wants to bring attention to the parking options on the new stations. "There is not enough publicity about available parking in Metro," said Horn.
The Silver Line was also expected to affect crime rates in the area, and the Tysons Urban Team was established in 2013 to supplement the McLean District police station in patrolling shopping areas and Metro.
Washington Metropolitan Area Transit Authority spokesperson Morgan Dye said that there have been eight reported crimes in the five new stations since opening day—one at Wiehle-Reston East, 4 at Tysons Corner, two at Spring Hill and one at McLean.
Bob Maurer, senior marketing manager for Tysons Corner Center, said in an email that there has definitely been an increase in shopper traffic from Metro but not necessarily a crime element.
Scheduled activities and festivals at Lerner Town Square reflect Tysons Corner's burgeoning community that is not just a commercial center. Tysons Partnership is working on increasing signage and visibility that will inform people about Tysons Corner as a destination.