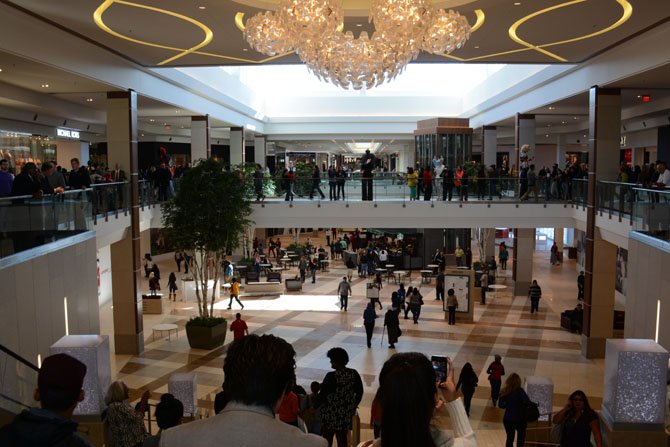 GSA: The largely vacant warehouse off Loisdale Road in Springfield is currently in the running to become the new headquarters of the FBI. The building, owned by the General Services Administration (GSA) is up against other options Greenbelt and Landover, though the phase of sites making offers won't be completed until late winter. The GSA is accepting development proposals through Feb. 10 to revitalize the site up to 2.1 million rentable square feet to house the FBI.
Wegmans at Hilltop Village Center: Though the new destination grocery-restaurant was previously slated for a late spring opening, Supervisor Jeff McKay (D-Lee) now says to expect an opening in the May-June timeframe -- among other reasons, due to the substantial training employees must go through. The 350,000 square-foot facility will be an anchor at Hilltop Village Center (the corner of Telegraph Road and Beulah Street), which will also feature a gym and other retail.
"One thing we've experienced at the Springfield Town Center is its popularity is unbelievable," said McKay. "And the appetite, especially for restaurants, literally, is so big in that area, that the more we can build and provide services to people closer to where they live, the better."
Corridor study of Van Dorn Street: "This year, I would like to determine if we can take advantage of the city of Alexandria that's already studying that corridor," said Supervisor Jeff McKay (D-Lee), "and tie into that all the way down to Kingstowne. I would love to see a bus rapid transit system put in on Van Dorn. We're not interested in widening it; we widened it to death in Fairfax County."
Bonefish Grille parking lot area: Kingstowne in general is taking a look at the town center, thinking about ways to liven up to compete with Springfield Town Center. The Bonefish parking lot has already been approved for building four office structures, including a special exception to allow for a residential component. The mix of condos, apartments and age-restricted housing has gone through rezoning but is still in preliminary stages.
Liberty View: This 13.45-acre site near Beulah Street and the Fairfax County Parkway was approved for single family home neighborhoods, four office buildings and fifth structure that would be either a hotel or office building, was approved in 2011 but progress stalled due to the office market and Sequestration. Plans are moving forward, albeit slowly.
Springfield Town Center: The gleaming new mall is the first of multiple revitalization plans for Springfield Town Center (STC). Later stages include residential, office and hotel space, but their development will be dictated by the performance of the market, how the mall performs.
Jennings Toyota: The new car dealership off Loisdale Road has already been completed, on a landfill no less. Part of that construction included a proffer for a new turf field at Loisdale park. That field is finished but won't be available for use until the spring.
Corbet Manor: 7717 Gambrill Road (Springfield/Fairfax Station). 7 Single family homes on 4.5 acres. Previously unconsolidated parcels.
Gambrill Pointe subdivision: These 20 homes built on 11 acres at roughly Gambrill Pointe Court and Ridge Creek Way were built in 2014 and are in the process of being sold.
Park Pointe subdivision: 18 single family homes on 7.7 acres have been approved on the east side of Gambrill Road, near the Fairfax County Parkway. The plan is currently in the site review stage of redevelopment.
Sources: Supervisor Jeff McKay (D-Lee) and land use aide, Supervisor Pat Herrity (R-Springfield) land use aide, the office of U.S. Rep. Gerry Connolly (D-11).