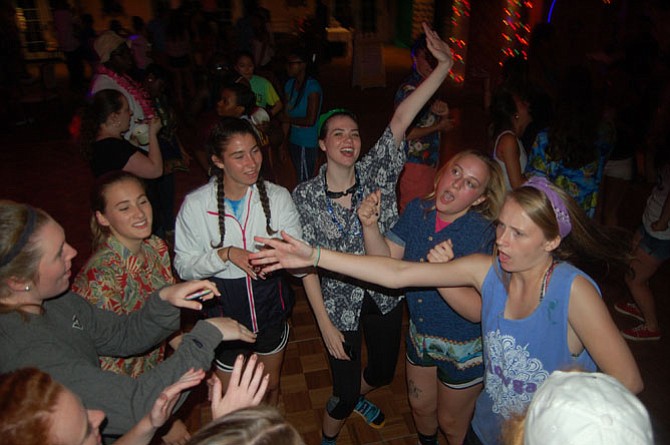 Alexandria — The West Potomac High School All Night Graduation Celebration provides a safe, fun, drug- and alcohol-free event for seniors following their graduation ceremony.
The Class of 2015 celebration took place June 18, from 10 p.m. – 2 a.m., at Belle Haven Country Club. More than 230 seniors joined in the fun, which included a full casino, a DJ, arcade games, Sumo wrestling, a mechanical bull, door prizes, and more.
The event was made possible by the donations of numerous individuals, including current and former parents and neighbors who wanted to ensure a safe celebration for the graduates.

More than 80 local businesses also provided support, including: Hollin Hall Automotive, Alexandria Symphony Orchestra, Clarke & Sampson, Ft. Hunt Animal Hospital, Fast Signs of Alexandria, Ft. Hunt Sportsmen Association, Four Sales, Mount Vernon Travel, Pinto Contractors, Alexandria Toyota, Alexandria Oral Surgery, Kevin Jackson, DDS, Surovell for Delegate, Carl Sandburg Middle School PTA, Sisterhood of Olam Tikvah, Sherwood Hall Pharmacy, Belle Haven Animal Medical Center, Honorable Toddy Puller. Old Town Smiles – Dr. Kitchen, Stratford on the Potomac Section Four, Paul Spring Retirement Community, Hughes Orthodontics, Collingwood on the Potomac Citizen Association, Kiwanis, Waynewood Elementary School PTA, Genuario Construction Company, Thomas J. Fannon & Sons, Elizabeth Holm Nutritional Counseling, Master Roofing & Siding, Mt. Vernon Athletic Club, London Bob Hair Design, Just Dance, Hunan Manor, Pacers Running, Parcel Plus, Potomac Nationals, Mint Condition, Dishes of India, Queen Bee Designs, Ten Thousand Villages, Great American Restaurants, Fairfax County Park Authority, Creative Solutions for Publishers, Bowl America, Fairfax Ice Arena, Peking Gourmet, Falls Church, Potomac Riverboat Company, Village Hardware, Starbucks, Mt. Vernon Plaza, Silver Parrot, Staples, Mt. Vernon Plaza, Wintergreen Resort, Gold's Gym, Whitetail Ski Resort, Buffalo Wild Wings, El Paso Mexican Restaurant, Kings Jewelry of Old Town, Waynewood Citizens Association, Jazzercise with Mindy LaBruno, Lowe's, Outback Steakhouse, Safeway, Sweet Frog, Dulles Golf Center & Sports Park, Laser Quest Potomac Mills, Mai Tai Restaurant, Mamma's Kitchen, Nina's Dandy Restaurant Cruises, Sportrock Climbing Center, Sugar House Day Spa, Target, Richmond Highway, River Bend Bistro, Tanya - beads!, Paper Source, Alexandria, Mr. Kleen Car Wash, Moe's, Tempo Restaurant, Famous Dave's, Chili's, Today's Cargo, Shane's Rib Shack and the WPHS PTSA.