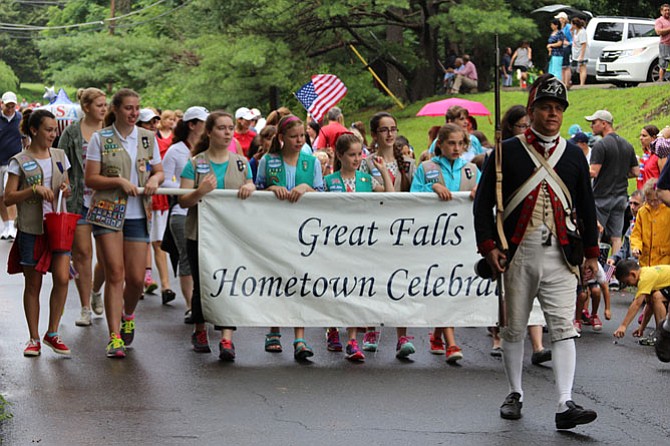 The rain wasn't enough to keep people away from Great Falls' Independence Day celebrations. More than 100 people lined up at the Freedom Memorial early Saturday morning to kick off the festivities with the annual 5K race.
"When Celebrate Great Falls asked if we would do this, the idea was to have a different kind of race on our own trails," said Mary Cassidy-Anger of the Great Falls Trail Blazers. She went on to say how private homeowners helped make the race route possible by allowing the trail to run through parts of their property for the day.
Koko FitClub sponsored this year's race, and had gifts prepared for every finisher as well as prizes for the fastest male and female participants. Martin Lawn and Landscaping aided in clearing the trails for the runners.
"We just do this for fun," said Trail Blazer Julie Ben-Anchour. "It's a fun run that everyone can enjoy on the Fourth of July, and it's a good way to start the day." Runners and walkers of all ages and abilities participated in the race, which is also dog-friendly and generally stroller-accessible.
Runners from all over attended this cross-country run, and the first-place finisher and male winner was South African Wiehan Peyper. The first female finisher was Brittney Steele.
The rain subsided just in time for the annual parade. Despite a 30-minute delay, hundreds of spectators lined the route and the parade commenced as usual. The Girl Scouts led the parade, followed by the Boy Scouts, fire and rescue vehicles, dogs, horses, and various floats and area sports teams.
After the parade, the fun continued in the Village Centre Greene, with wipeout-inspired inflatable obstacle courses, snowcones, slides and games. Food was available in the Walker Road parking lot.
Additionally, Great Falls Volunteer Fire Department hosted their annual INOVA Blood Drive, offering free T-shirts to every donor.
To close out the day, the fireworks were back with a bang at Turner Farm Park. Live music, games and contests took place before the big event, which was unfortunately canceled last year.
To help keep the fireworks in Great Falls an annual tradition, donations are welcomed year-round by the Friends of the Fireworks at http://www.celebrategreatfalls.org/.