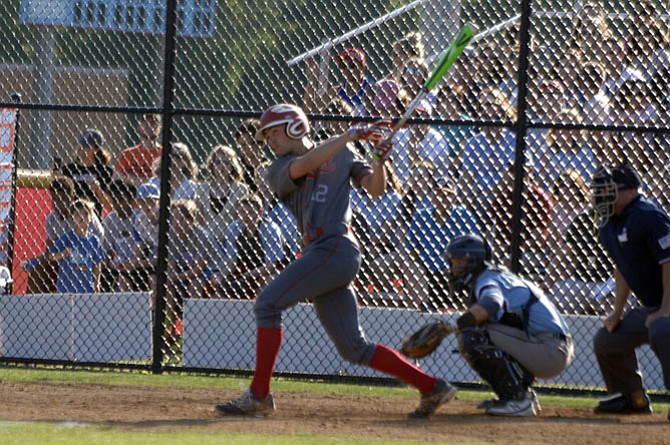 Will Brooke spent three seasons helping transform the Marshall varsity baseball program into a state title contender.
As a senior this past spring, Brooke was the ace of the Marshall pitching staff and a slugger in the Statesmen lineup. He helped the team repeat as Conference 13 champion, and reach the 5A North region and state championship games. Marshall lost to Stone Bridge in the region and state finals, but the Statesmen left their mark in 2015, helping the program return to a state championship game for the first time since 1987.
Brooke was named Conference 13 Pitcher of the Year, and earned first-team all-region and first-team all-state honors. The 2015 Marshall graduate will continue his baseball career as a pitcher at Coastal Carolina University in Conway, S.C. The Chanticleers compete at the Division I level in the Big South Conference.
Brooke recently participated in a Q&A via email with The Connection.
Connection: You'll be playing baseball for Coastal Carolina next season. What made CCU the right choice for you?
Brooke: I've always thought of them as having a very successful program and the coaches made me feel like I have a good chance of contributing next spring and in the next few years. Coastal is also very close to my grandparents and other family members so I don't feel too out of place going to a school 7 hours from home.
Connection: What are you most looking forward to about going to college?
Brooke: The freedom of living without parents and just being able to play baseball at a higher level in front of bigger crowds
Connection: At what age did you start playing baseball?
Brooke: Four years old.
Connection: When did you realize playing college baseball was an option for you?
Brooke: Freshman year of high school when I went down to [East Cobb, Ga.] for the first time. The realization of playing in college grew every year since then when more and more college coaches came to watch me pitch.
Connection: You were a key contributor to helping Marshall reach the state championship game for the first time in more than 20 years. What did it feel like to be part of that accomplishment?
Brooke: It was awesome being able to play in the state championship. I loved every moment of the season. Coach [Aaron] Tarr would always talk about how good Marshall baseball used to be and how special that team was that went to states. I just want our team to be talked about in 20 years like that team was.
Connection: What is your favorite memory of playing baseball at Marshall?
Brooke: Hitting two home runs in the state championship game.
Connection: What do you like to do when you're not playing a sport?
Brooke: I like to hang out with my friends, which normally ends up being a pick-up basketball game, ping-pong tournament or a trip to the driving range.
Connection: What's your favorite food?
Brooke: Lobster.
Connection: Who is your favorite music artist? Why?
Brooke: Kendrick Lamar. He's my go-to artist from pregame music to just driving around in my car.
Connection: What is your favorite movie? Why?
Brooke: 'Anchorman.' My favorite Will Ferrell movie. I use quotes from that movie all the time.