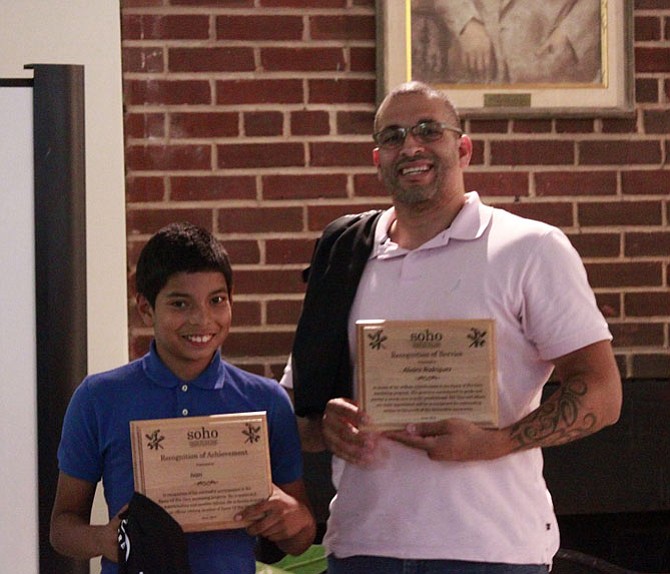 "The most rewarding thing about Space of His Own was the interaction with the kids and seeing them transform from the beginning of the program where everyone's nervous and there's a sense of formality, and seeing it evolve to where there's a level of comfort between the mentor and the mentee." — Alvaro Rodriguez, Space of His Own mentor.
Alvaro Rodriguez, or "Al" as he is known to Space of His Own mentors, mentees and program staff, was a serviceman by profession for over two decades, but retiring from the military hasn't stopped him from giving back. Al, who served in the Marine Corps as an infantryman and in the Army as a drill sergeant, is now one of SOHO's outstanding mentors: Al exemplifies respect, empathy, and the ability to be responsible in his actions and words.
He and his mentee initially bonded over a mutual interest in the military. Ivan has expressed interest in the Marine Corps, and they visited the Quantico military base during one of their weekend outings. "One of my greatest moments with [my mentee] was when we went on a field trip to the Marine Corps museum in Quantico, and just seeing him light up. It's helped him understand what he wants to do when he grows up," Al said.
Ivan is grateful for the supportive relationship he has with his mentor: "My favorite part of SOHO is getting a mentor and them helping you with growing up. They give you really good advice, they help you in a lot of stuff, especially in school."
Program manager Ashley Snyder commends Al for creating a space where Ivan can feel free to express himself. Snyder describes how when Ivan is around Al, he "stands a little taller; he is really on top of his game and makes the most of their time together."
The Space of His Own program provides one-on-one mentoring relationships for 12 Alexandria boys each program year. Unfortunately, the program's great struggle has been finding men like Alvaro Rodriguez to volunteer as mentors with the program. This year, the program must find 12 men by the end of July, or Space of His Own cannot continue. In Al's words, "If you're the type of man who has an open mind and a willingness to give, this is a program worth doing." Please contact program coordinator Haley Bader if you are interested in transforming the life of a child in need. You can reach Haley by email: haley@spaceofherown.org or by phone, 703-746-4687.
Space of His Own is part of The Alexandria Mentoring Partnership (AMP), which was created in 2006 to ensure that quality mentors and mentor programs are available for Alexandria's youth and young adults in need. There are 11 professionally managed programs in the partnership that need adult mentors. To learn more about AMP, visit: http://www.alexandriava.gov/Mentoring.