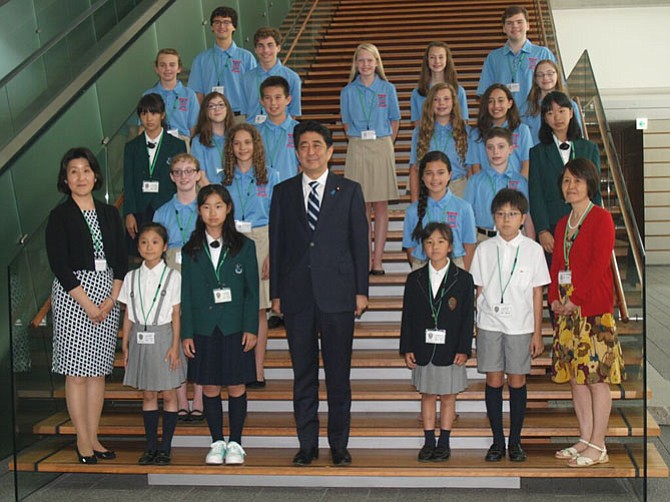 Great Falls Elementary School's (GFES) sixth grade Japanese Immersion Program (JIP) participants returned from their cultural exchange trip to Japan on July 9. The 14-day trip included stops in Tokyo, Kyoto, Hiroshima, Fukuyama, Miyajima Island and Mt. Fuji. The trip was designed to give thirteen participating students an opportunity to apply their language skills by becoming further immersed in Japanese culture. Not only did students visit major cultural landmarks, they also stayed with Japanese families whose students attend Eisugakkan Elementary School in Fukuyama, and were received by dignitaries eager to further their understanding of Japanese culture.

One of the trip highlights involved a visit to the residence of Prime Minister Shinzo Abe and his wife Akie Abe. On the same day the group was also invited by Caroline Kennedy, U.S. Ambassador to Japan, to the American Embassy in Tokyo. All dignitaries reinforced the benefits of a multi-cultural education and importance of the strong relationship between U.S. and Japan. During the morning at the Prime Minister's residence, students presented a gift to both the Prime Minister and Ms. Abe, were treated to lunch and learned about the Japanese martial art of sumo wrestling. Mrs. Abe posted these pictures to her Facebook page following the visit. At the American Embassy, Caroline Kennedy and her staff talked about the role that American diplomats play in foreign countries and answered tough questions posed by GFES students.
The time spent with Eisugakkan Elementary School students in Fukuyama is always a trip highlight because it involves GFES students being hosted in Japanese homes for a couple days. The experience helps students learn about Japanese family life, food, school and extracurricular activities. Japanese homestay families chose shopping, cooking, sightseeing, playing with pets, and holding birthday celebrations as activities for GFES students during their visit. After their homestay, GFES students reconnected with their U.S. families and continued touring around Japan. Three Japanese Eisugakkan Elementary School students will visit the U.S. in October of 2015 and be hosted by GFES families as part of the exchange relationship.
Over the course of the trip, the group of thirty students, parents and siblings also toured a ramen museum, rode the bullet train around Japan, learned to make nori, were entertained by a geisha, received kabuki lessons, visited the Hiroshima Peace Memorial/Museum, hiked Mt. Misen, toured the Tsuneishi Shipbuilding and Recycling Plant, participated in a Kendo demonstration, watched a sumo practice, shared in a Japanese tea ceremony at a Buddhist temple, climbed Mt. Fuji, took a dinner cruise in Tokyo Harbor, and visited several other shrines and temples.
The trip was an amazing adventure filled with experiences and people who will be remembered for a lifetime.
The group kept a photo blog of the trip and other pictures can be seen at https://gfesjapantrip2015.wordpress.com/