For Marta Sniezek, ranked one of the top basketball players in the country, her parents and her siblings are her motivators in a family where success is a blueprint.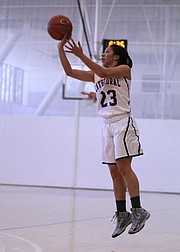 "I credit all my success to my family who have supported me in everything that I wanted to pursue," the McLean resident said. "My father taught me that I could do anything my brothers can academically and athletically. My sisters and brothers taught me tough love."
Marta has won numerous awards on and off the court, maintained above a 3.0 GPA at National Cathedral School and also makes time for volunteer work. Most recently she was named to the Parade All-American Basketball team, which recognizes the top 60 male and female players in the country. Previous recipients of this honor included Michael Jordan, LeBron James and Candace Parker. In the fall she will be attending the Stanford University on a basketball scholarship.
One person who particularly inspires Marta is her mother, Edwina Sniezek, who was diagnosed in 2008 with chronic myelogenous leukemia in 2008. She underwent bone marrow transplant in 2013.
"It had a big impact on our family, particularly Marta," according to Marta's father, Dr. David Sniezek. "Because of my schedule, it has always been Edwina who took her to practices, games, and to tournaments that required travel. Their time together and shared experiences allowed them to develop a close relationship, one that endures today."
Marta dedicated her junior basketball and soccer seasons to her mother, which culminated in a D.C. Gatorade Basketball Player of the Year award among other accolades, and an All-Met Honorable Mention award to go along with a District of Columbia State Athletic Association state title for National Cathedral in soccer.
At the same time, she devoted whatever time she could to be her mother's primary caregiver.
"The experience gave Marta a bit of an edge in sports and life because she knew that she was going to have a conversation with her mother about everything she did that day," her father said.
Going into her senior year Marta had already committed to Stanford for basketball. And she could have easily relaxed: she had planned to forgo her senior season of soccer to avoid added exposure to injuries.
"I only played soccer for NCS just to be with my friends. I never intended to play soccer senior year, but when I found out that one of the team's standout players was leaving the area then I decided to play," she said. "I wanted the seniors to win a third DCSAA title so I decided to play."
Marta's decision to play exemplified what many people highlight as some of her best-unknown attributes as a person.
"Marta is a really caring and loving person. She values teammates, family, and all those around her," said one of her AAU coaches, Bob Dix. "She is fierce competitor on the court, but also an extremely caring person."
Her decision turned out to be a good one, as she helped NCS win a third straight state title. Marta was named first team All-Met and the D.C. Gatorade Soccer Player of the Year making her the first female to win the Gatorade Player of the Year in two different sports in D.C. history.
She is also an Academic High School All-American in soccer and basketball, a member of the National Honor Society, a recipient of the Merit/Leadership Independent School Scholar, and a three-time Fairfax Stars "Outstanding Scholar Athlete Award" among other awards.
She also has volunteered for community service work, locally on behalf of the Haiti Relief Fund, for the So Others Might Eat organization, Jill's House, and as a National Cathedral School volunteer for the Latino disabled community.
"I don't think there is an athlete in the DMV that has the accolades that this young woman has on and off the court," said Dix. "She truly embodies that the phrase student athlete."
Looking ahead, Marta looks to keep the success going at Stanford. And she is excited about what her future holds, something she knows can be accomplish with the strength and inspiration of her mother on her mind.
"My mother instilled self-reliance, hard work and compassion in me," she said.