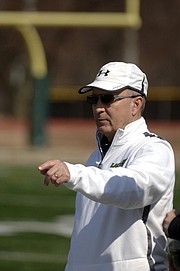 Weston Simonides was off to a rough start in the spring of 2014 and the Langley junior was nervous prior to taking the field. Earl Brewer, Langley's long-time boys' lacrosse coach, could sense Simonides' anxiousness and moved in to calm the Saxon attackman.
"This is not pressure, this is fun," Brewer told Simonides. "Pressure is having bullets fly past you every day for a living. This is just lacrosse. Go out and have fun."
In 2012, three-time defending state champion Langley was facing Chantilly in the VHSL AAA state final. The Saxons were without standout defenseman Chandler Suk, who was injured the previous game, and the Chargers had just increased their lead with another goal when Brewer said: "We've got them right where we want them."
Langley went on to win, 12-8, and capture its fourth consecutive state title.
Brewer, 59, retired on July 9 after 21 seasons as head coach of the Langley boys' lacrosse program, citing the desire to spend more time with his family. He compiled a 288-87 record with the Saxons, winning 10 district/conference titles, two region championships and four consecutive state titles from 2009 to 2012.
Brewer also coached six seasons at Fairfax High School, bringing his 27-year VHSL coaching record to 326-108. Brewer led the Rebels to the Western Division championship in 1990.
But Brewer was more than just a coach compiling championships. He was a calming influence who showed you didn't have to shout at your players to gain their respect.
"[H]e did a great job of setting an example of how to conduct yourself as a leader," former Langley defensive standout Brad Dotson wrote in an email. "It would've been easy for him to lose his cool and scream at us pretty frequently; he was almost babysitting at times when I look back at how much we screwed around. We didn't make it easy for him but he always got us moving toward our goal with a positive attitude. It's much more encouraging to play for someone who inspires you to follow him as opposed to someone that screams and makes threats for when you screw up.
"Brewer always set the example of how to motivate the people toward the goal of the team."
Dotson, a four-year varsity player who graduated from Langley High School in 2013, was part of three state championship teams and is now a rising junior defenseman for the Bucknell University men's lacrosse team. Brewer's "We've got them right where we want them" line from the 2012 state final is Dotson's favorite memory of playing lacrosse at Langley.
"Coach Brewer stayed calm and had the same demeanor when we were down three as when we were up five," Dotson wrote. "That was a great team. We were all really close that year."
Simonides is a 2015 Langley graduate who will play club lacrosse at James Madison University next year.
"Nothing ever shook Coach Brewer; the man has ice in his veins," Simonides wrote. "He always made it seem that no matter what situation the game was in, the other team was right where he wanted them. He is also the most caring coach there is. He genuinely cares for each player on his team like they are family, which is really something that always helped us grow so much as a team. As an athlete, Coach Brewer not only made me into a much smarter and better lacrosse player, but also was able to instill confidence in me and help me grow into a more reliable player and a better leader.
"In the few years I played for him, he never built our teams around superstars, but instead he took time to develop each player into a specific role to help us win games."
Brewer is attentive to his players, but his desire to spend more time watching his son, Drew Brewer, play lacrosse is one of the main reasons he decided to retire. Drew is a rising senior defenseman at Chantilly High School and Brewer missed many of his games while coaching the Saxons.
"Missing so many of his games this past year started to get to me a little bit," said Brewer. "... Days are short. You don't get these memories back. I thought it was the right thing to do. ... I added up how many [of Drew's] games I watched and I think it was seven, and that bugs me a little bit."
Brewer said his fondest memories of coaching at Langley were during the Saxons' four consecutive state championships. Langley defeated Chantilly in the 2009, 2011 and 2012 state finals, and beat Loudoun Valley in 2010.
"They refused to lose," Brewer said. "... I'm very good friends with all those guys from those teams. .... When you reach the highest level you can obtain, those people are always going to have special place in your heart."
Brewer will continue coaching fall and summer lacrosse for Virginia Elite. As for Langley, Brewer said he's leaving the Saxons on a "high note," referencing a strong 2017 class. Langley started 4­7 in 2015, but responded with eight consecutive victories and eventually reached the state semifinals.
"I've made so many friends along the way," Brewer said. "I'm so proud of my players."Brewer's players are fond of him, too.
"Recruiting, skill development, learning the game, you name it," Dotson wrote. "Coach Brewer got me to where I am as a player. I have him to thank for the countless memories and close friends I made through the Langley lacrosse family."