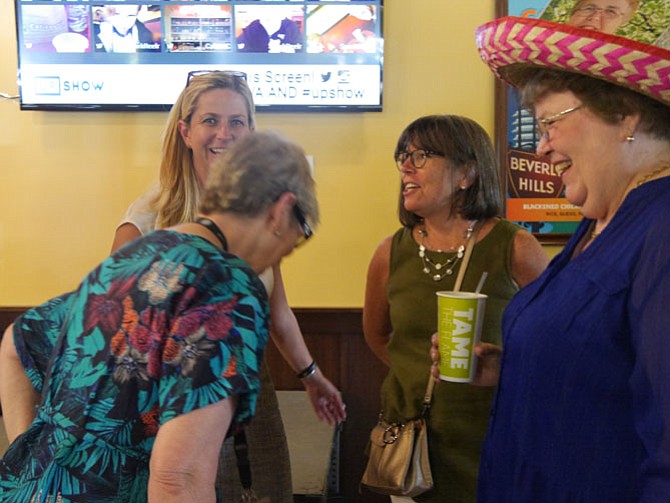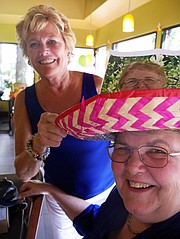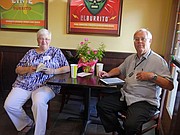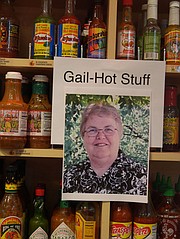 It was the retirement party for Gail Arnall, executive director for 10 years of Offender's Aid and Restoration (OAR). "But," as her friend from 1973, Belle O'Brien, said as she is putting flowers on each table, "if you believe she is retiring, you don't know Gail."
Arnall looks to the door of California Tortilla on Wilson Boulevard. "I can't believe my brother and sister from Arizona are here." Arnall's twin sister has just arrived with her brother. "Did you recognize her; she has white hair because she was born 10 minutes earlier." Arnall's brother, Bill Crotts, is a former offender who spent 6-1/2 years in prison. But she says it didn't influence her accepting this job; she had actually started it before he was incarcerated. She speculated it is ironic that this happened after she had already accepted this position.
OAR was established in 1974 by a group of women from Arlington who volunteered in the jails and saw a need for ongoing support of prisoners and ex-offenders. OAR's slogan is Strengthening Community Through Second Chances. Today it serves the county of Arlington and the cities of Alexandria and Falls church by working with individuals who have been incarcerated in Arlington or Alexandria detention facilities or anywhere in the country and are returning to one of these locations as well as individuals who are mandated by the Arlington or Falls Church courts to complete community service hours.
Arnall came to OAR from her own company, Phoebus Communications, where she did long-distance interactive learning projects for rural schools for 17 years. "The last one I did was called Safety Net and went to juvenile correctional facilities." That's what got her interested in this area. Since Arnall had been doing national projects she decided she needed to do something local. Arnall answered an ad in the Washington Post and ended up as OAR's executive director.
When she came to OAR, the budget was $700 million with $150 million in kind. Now it is $1.2 million. The staff has grown and stabilized. "It is very important for our clients to have continuity." And she says one of the important things that has made her proudest is that her staff's salaries are now commensurate with those in other social services agencies. The number of clients serving community service has grown and, "Another thing that is so great about this jurisdiction is they can also pay their court fees through community service."
Dave Wiley, chair of the OAR Board, stops by to congratulate Arnall. "We can't make what we say positive enough," he said.
Arnall has faced obstacles. She says when she first took this job, no one wanted to talk about prisoner reentry or fund it. There was a sense that if people had messed up, they got what they deserved. She added that there is a lot of fear so she takes clients with her so people can see the former offenders as they really are, "Otherwise people just get their impressions from TV."
She has spent most of the past year doing outreach and some advocacy so that people understand what is going on in the criminal justice system. She adds that churches and civic groups are among the quickest to accept the need for helping prisoners with reentry.
She said it feels strange for people coming out of prison. "They think, 'People are being nice to me; what do they want?' They have to learn a different reality. OAR welcomes them back and lets them know they want the person to be part of the community." Arnall said she is excited about a new intensive evidenced-based re-entry program starting this month based on the idea that before you can help a prisoner come home you have to know their risk factors. They come back with no family support or job to the same people they knew before they went in. There is a new 12 -week class twice a week with a curriculum to help the prisoners change what they are thinking before they come out and to tailor their reentry plans directly to their risk factors.
Arnall said she had told the board when she was 70 she would retire. "But at 69, so many things I wanted to do were done. It was time, and I had a couple of things I wanted to do." So she asked if she could stay involved with OAR but not run it. Now her title is development and outreach consultant.
One of these projects is in Prince George's County which has 14,000 people return from incarceration each year but no reentry program. They have put in a proposal to the state of Maryland for funding a planning process. If funded, the organization that will likely lead this effort has asked Arnall to serve as an adviser.
OAR serves Arlington and Falls Church and also works with Alexandria, where they will be expanding their opportunities including providing services inside the Alexandria Detention Center, providing one-on-one employment assistance to clients released in Alexandria and working with families. For the last two years OAR received just over $24,000 each year from the Alexandria Fund for Human Services to support its reentry program in Alexandria. They set up office hours on Fridays at Downtown Baptist Church on South Washington where they provided one-on-one case management and group classes. Arnall points to the success of the OAR program. In Virginia 26 percent return to prison after a year but in OAR among people who stay in the program, it is 8 percent.