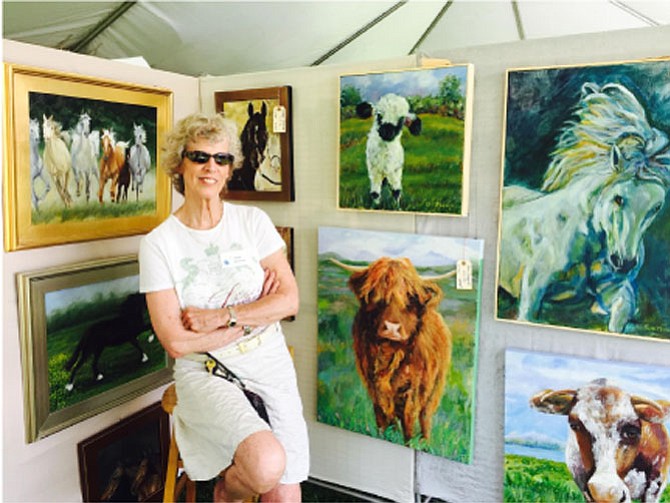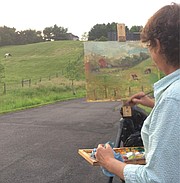 When Great Falls Studios decided to add a spring show to supplement their annual October show a few years ago, they struggled to find a large enough building after trying multiple indoor venues.
Last year, Great Falls Studios decided to move outside to the Great Falls Village Green after outgrowing all the venues in town, said Linda Jones, a board member.
"We were brave enough to say, 'Well, perhaps at the end of May, when we have the first summer concert on the green, we might be safe to have an outdoor show,'" said Jones.
The art show is a component of the town's weekend arts celebration ArtFest Great Falls 2015. Great Falls Studios collaborated with the Arts of Great Falls, a community art foundation, and the Great Falls Foundation to put on the weekend event.
In addition to the outdoor art sale and the first summer concert, the agenda of ArtFest included two local art contests sponsored by the Arts of Great Falls, the Plein Air Competition and Quick Draw Sunday.
The Plein Air Competition gave participants between Thursday and Saturday afternoon to create up to two original plein air paintings, or paintings prepared outside in the "open air," to submit for prizes.

Participants in Quick Draw Sunday had between 10 a.m. and 12 noon on Sunday to complete a painting done on the Village Green Centre to submit for a prize.
"This is a great combination of several local organizations coming together to bring to the community something fun to do over the weekend," said Julie Casso, the director of the Arts of Great Falls.
The art show exhibited artwork by 23 members of Great Falls Studios. People wandering through the artists' booths stopped to admire the myriad of media, ranging from oil, acrylic, and watercolor paintings, to pottery, photographs, jewelry, blown glass and fabric art.
Painter Leslie Anthony, an artist showcasing her work at ArtFest, said her favorite element of taking part in ArtFest was the community members who visited her booth.
"The people that come over and look at your stuff – that's the best part," she said. "When people are interested in my work, and when they like what I do, its very fun."
Casso echoes Anthony's appreciation of community involvement in art activities.
"We will all be looking for opportunities to keep having events for people to come to and enjoy, because that is what makes Great Falls great," Casso said.
More like this story