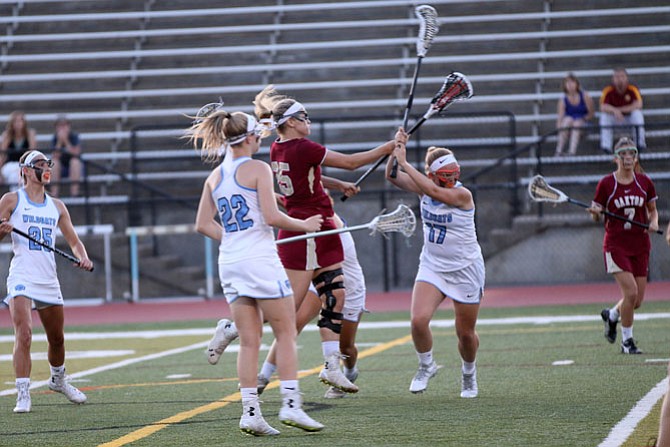 The Centreville girls' lacrosse team is headed to the state tournament, but not in the fashion they wanted.
The Wildcats lost to Oakton 17-16 in overtime during the 6A North region tournament semifinals on Saturday at Centreville High School.
Instead of a third meeting between Robinson and Centreville — arguably the top two teams in 6A North during the regular season — in the region championship game, the Wildcats faced Westfield in the region consolation game on Tuesday, after Centre View's deadline.
A matchup with Robinson, which beat Westfield in Saturday's first region semifinal contest, would have given Centreville a shot at a region title a first-round bye at states. Instead, the Wildcats will enter the state tournament as a lower seed.
Centreville secured a state berth by beating Woodson 12-6 on May 28 in the region quarterfinals.
Centreville defeated Oakton 13-9 during the regular season and 16-10 during the Conference 5 tournament. On Saturday, however, the Wildcats were down by one at halftime and trailed 15-12 with 8:17 remaining in the second half.
Centreville responded with four straight goals and took a 16-15 lead when senior Reagan Newell scored with 21 seconds remaining.
Senior Caroline Wakefield, who assisted Newell's go-ahead goal, knew the game was far from over.
"They were cheering," Wakefield said about her teammates. "I was like, 'It's not over, it's not over. There's 20 seconds left.' I think we got caught up in the moment thinking that there wasn't any time [on the clock]."
Oakton gained possession and sophomore attacker Stephanie Palmucci headed toward the goal. She was fouled with four seconds remaining, leading to free position, and she scored the tying goal with one second left on the clock.
"Stephanie's a little girl, but a big-time player," Oakton head coach Jean Counts said. "She'll step up when she needs to step up. [She] struggled a little bit during regulation and when it counted with four seconds left she had an absolutely clutch play.
"… Stephanie is a second-year varsity player but at the same time she plays like she's been here for six years."
With the scoreboard clock stopped and official time kept on the sideline, Palmucci said she didn't know how much time remained.
"I wasn't thinking about it, but I had an idea because we had been playing for so long," she said. "I just knew the pressure was on and I had to do something."
The game went to overtime and Oakton showed patience with its initial possession of the first 3-minute extra period. After more than 90 seconds had run off the clock, Palmucci attacked and scored what proved to be the game-winner.
Neither team scored during the second 3-minute overtime period.
"They wore us out on defense," Newell said. "They did a great job just keeping possession. We couldn't keep possession at all."
Wakefield and Newell each scored four goals for Centreville. Sophomore Elizabeth Murphy tallied three goals, senior Kara Waddell and freshman Emily Marciano each had two, and freshman Paige Richbourg added one.
"I think this loss is going to help us bounce back," Wakefield said. "… I think the girls, it's hitting them now. I don't know if you saw how many girls were crying out here — I'm not much of a crier — but everybody wants it now. The difference is them actually wanting it and going out there and getting it. You can say you want it, but you've got to stick to your game plan and execute."
The state tournament is scheduled for June 9-13 at Lake Braddock Secondary School.
"I believe wholeheartedly in this group, so it's their choice now," Centreville head coach Christina Griel said after Saturday's loss. "I want it for them 110 percent and I believe so much in this group, so it's their choice whether they're going to show up again on Monday."