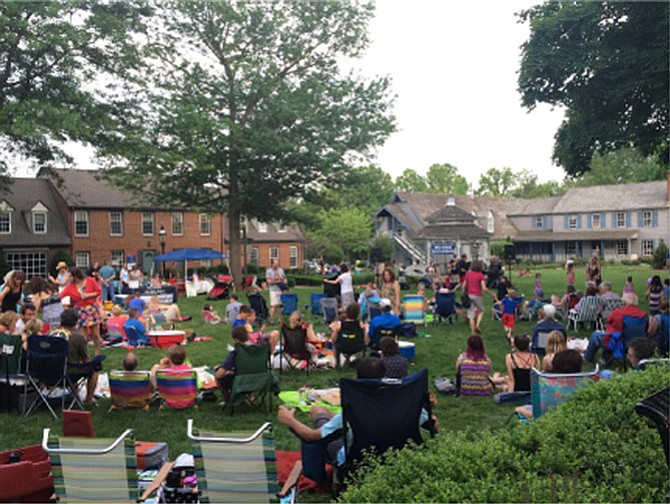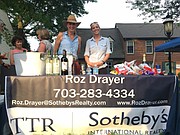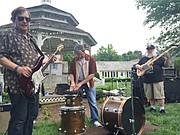 The band Mike Terpak Blues Explosion performed Sunday evening at the Great Falls Village Centre Green to kickoff the annual summer series, "Concerts on the Green."
Picnic baskets, blankets and lawn chairs covered the Green amid clusters of families and friends– a common occurrence for a summer Sunday night in Great Falls.
With a history spanning more than 20 years, the concerts have become a weekly tradition for many residents of Great Falls.
The concerts, started by Helene Teel, had been put on by the Village Green shop owners until the Celebrate Great Falls Foundation took over the concert production three years ago.
Erin Lobato, the director of the Celebrate Great Falls Foundation, said the concerts are a wonderful part of community summers.
"We typically get 300-400 or so at each concert and it is a wonderful mix of ages," Lobato said. "Lots of families with young children running about, older children tossing footballs, groups of neighbors enjoying potlucks and couples with picnic dinners."
Jerry Stewart, the bass player for Mike Terpak Blues Explosion, attributed an audience of all ages as a draw for bands to perform at the Concerts on the Green.
"I love gigs with kids because they dance like no one is watching," he said.
Each concert is sponsored by a local business. Roz Drayer, of TTR Sotheby's International Realty, sponsored Sunday's concert. This is her fourth year as a sponsor.
"I moved to the area five years ago from Britain and it felt like home, so I wanted to give back," Drayer said.
This summer the concert schedule extends into September for the first time.
"We are so blessed to have so many wonderful sponsors this year that we will have concerts until Labor Day Weekend," Lobato said.
The Concerts on the Green are free and take place 6 to 8 p.m. every Sunday until Sept. 6.
2015 Concert Schedule
May 31 – Mike Terpak Blues Explosion, sponsored by Roz Drayer, TTR Sotheby's International Realty
June 7 – Mary Ann Redmond, Sponsored by The Simmons Team
June 14 – The Dani Cortaza Quartet, Sponsored by AV Architects
June 21 – Four Star Combo, Sponsored by Capital One Bank, Great Falls
June 28 – Ruther and the Wranglers, Sponsored by Keller Williams Realty, Great Falls
July 5 – Natty Beaux, Sponsored by Costa Family & Cosmetic Dentistry
July 12 – Emma Bailey, Sponsored by John Nugent & Sons
July 19 – Jr. Cline & The Recliners, Sponsored by Great Falls Auto Service
July 26 – South Bay, Sponsored by Bic DeCaro, Westgate Realty Group, Inc.
Aug. 2 – The Morrison Brothers, Sponsored by AOG Wealth Management
Aug. 9 – Diamond Alley, Sponsored by Glynis Canto & Kevin Canto, Realtors
Aug. 16 – Rain Date
Aug. 23 – The Beat Hotel, Sponsored by Koko FitClub
Aug. 30 – Dusty 45s, Sponsored by The Old Brogue & Katie's Coffee House
Sept. 6 – Scott Kurt and Memphis 59, Sponsored by Rossen Landscape