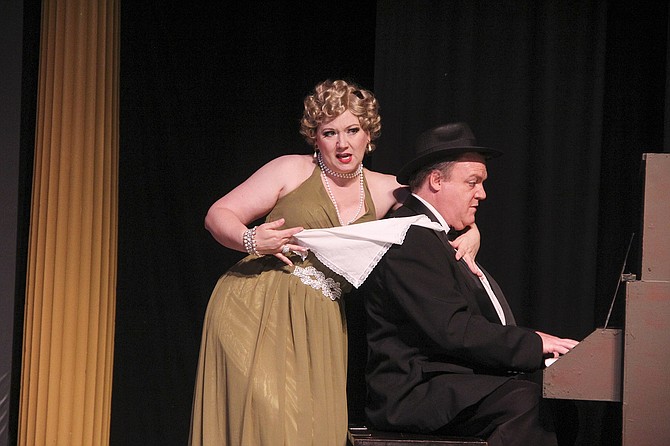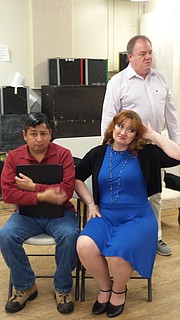 The Little Theatre of Alexandria is staging "Dirty Blonde" from June 6 to 27. A winner of the 2010 Tony Award for Best Play, the bawdy show highlights Mae West, one of America's pop culture icons, and her climb to fame. It weaves her life story with the oddball romance of two lonely New Yorkers who are obsessed with the star. The show spans her years in vaudeville to her stature as one of the silver screen's greatest bombshells. "Dirty Blonde" also includes songs from West's most famous movies, including "I'm No Angel," "Dirty Blonde," and "Perfect Love."
Director Jennifer Lyman decided to direct "Dirty Blonde" because not only did she enjoy the story and characters, but she saw the show as a tremendous challenge she knew she could conquer. "There are more than 40 scenes which take us to at least 20 different locations spanning 73 years, which are populated by 18 characters," she said. "Plus there are two well known iconic characters singing, dancing, and men in drag. Who could say no to all that?"
She said "Dirty Blonde" is the type of show that doesn't appear on LTA's stage often. "It is not a musical and it is not a play," she said. "It is a play with music (a play with a limited number of musical numbers), something that LTA has done only two other times in the last 15 years: 'Master Class' in 2001 and '33 Variations' in 2013."
She added: "Like those productions, 'Dirty Blonde' tells the story of an artist — Mae West. It is important to tell the story of artists and their struggle to interpret the world and their experience through their work as it heightens our appreciation of the devotion necessary to bring any artistic endeavor to life."
She said it was a challenge to figure out how she could reimagine this production to be achievable for LTA. "The production as conceptualized and originally produced featured only three actors — which meant that each of them was changing character and costume constantly," she said. "I decided to use five actors instead of three so that the actors playing the lead characters would only play those characters, and all of the supporting roles could be played by two additional actors."
The next challenge, she said was to move seamlessly between the many locations without slowing down the production or confusing the audience. "Between our flexible set, judicious set dressing, extensive lighting, and crack stage hands, we are able to visit many locations and time periods and still bring the show in under two hours," she said.
Janette Moman plays the lead role of Mae West, a "very strong woman who had so many positive qualities and was a trailblazer for women. I appreciate her drive, ambition and true talent. She was very intelligent and knew what worked for her," she said.
As far as challenges, she said, "It is important to make sure not to make Mae a caricature. She was a real person; so many people have emulated her it is way too easy for Mae to become a cartoon rather than the strong woman that she really was."
She added: "Mae touched people in an incredible way, even after her death, whether they met her or not. She has molded the idea of what 'sexy' is, and you can see Mae's influence in every sex symbol. But her spirit was equally long-lasting. She was a true feminist who embraced her femininity but didn't believe it should ever hold you back from having all the opportunities this world offers."
David J. Calderon plays the role of Charlie, a huge fan of Mae West. "When he was a kid, she helped him define his life and he has grown into adulthood with her as a role model," he said. "For him, it's a struggle to find himself in a world where a man having a woman as a role model just isn't what most people consider normal."
He added: "Because of that, he has had a difficult time with relationships and with his own self worth. He thinks his compulsion to dress up as Mae is strange, but it helps him feel 'right' when everything else isn't."
He said one of the challenges was trying to convey Charlie's struggles with his life and his choices. "It was also kind of tough to go from a 17-year-old character to one in his late 20s within the same scene," he said. "The time jumps in the dialogue are fun because they help bring both the play's past and 'present' together."

He hopes the audience will take away a greater understanding for the power of love. "It's not all things to all people and it doesn't look the same to everyone," he said. "I hope they will learn that accepting someone for who they are (and accepting yourself for who you are) takes strength of character and love that goes beyond the superficial 'romantic' ideal."

Co-producers Russell Wyland and Marian Holmes, who have produced together 10 times at LTA, said their job is to assemble the design team, watch over the budget, and generally keep the "trains running on time." They loved director Lyman's vision for how the play should look and feel and "because of the many different scenes and two distinct stories — one love story and another about Mae West — a production of 'Dirty Blonde' could easily spin out of control," said Wyland. "Jennifer saw simplicity where other directors might have seen chaos."
He added: "It's hard not to love Mae West. She was a self-made woman who decided to do it her way ... no apologies. The quickness of her wit is unmatched and her ability to be sexual without resorting to vulgarity is refreshing."
He said LTA has a long history of doing shows that celebrate historical people. And audiences are attracted to such shows because they not only become engrossed in a good story, but they usually learn something new and surprising about the person being portrayed.
About 15 years ago, LTA staged Terrence McNally's "Master Class," a show that takes audience members inside both Maria Callas's classroom tutorials and her emotional state while performing. It was a great success and since then the LTA Board has chosen several shows in a similar vein: "Gross Indecency" about Oscar Wilde, "The Will Rogers Follies," and "Picasso at the Lapin Agile," to name a few. So "Dirty Blonde" is a proven type show with audiences, they said.
There were also practical reasons for choosing "Dirty Blonde." Wyland said: "Audience members are subscribing or re-subscribing right now, and the board wanted a show in this particular time slot that would showcase the acting talent in the area and the technical capabilities of the theatre. 'Dirty Blonde' is both ... Audience members have told us over and over that variety is a good thing, and we hope that 'Dirty Blonde' both provides that variety and serves as a harbinger of what's in store next season."
He said the technical aspects of the show are, for the producers, the most challenging part of "Dirty Blonde." "Even though it is a play, it is much more like a small musical, coming with all the technical challenges of a musical. Musicians — we have a pianist and a bass player — require sound and video monitors and sound reinforcement; the set design has to allow for dancing, but must be intimate enough and simple enough to draw the audience into the world of Mae and her fans."
He said Lyman and set designer Andrea D'Amato have come up with a breath-taking set that uses both rear projections and marquee projections through a large-screen television. "Running one kind of video is difficult, but running two kinds of video is new territory for us. Thank God for our projection designer Austin Fodrie, who has taken LTA to new places with his design of 'Dirty Blonde' projections," he said.
The Little Theatre of Alexandria is staging "Dirty Blonde" from June 6 to 27. Show times are Wednesday through Saturday at 8 p.m.; Sunday matinees at 3 p.m. Tickets are $19-$22. The theater is located at 600 Wolfe Street, Alexandria. Call the Box Office at 703-683-0496 or visit www.thelittletheatre.com.