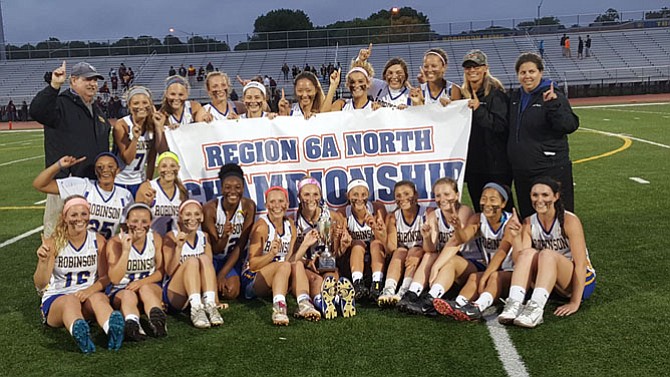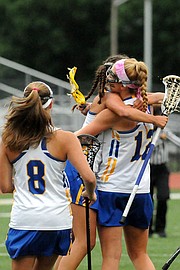 The Oakton girls' lacrosse team's patient approach and long possessions put the clamps on the Robinson Rams' potent offense early in Tuesday's 6A North region tournament final.
Robinson entered the contest averaging 20 goals per game, but managed just three in the opening 15 minutes.
Once Robinson got in a groove, however, the Rams would make up for lost time.
The Rams closed the first half on a 7-0 run, including a three-goal barrage in the final 20 seconds, and cruised to a region championship with a 15-6 victory over the Cougars at Robinson Secondary School.
It was the Rams' first region title since 2009, according to results on laxpower.com.
Goals by sophomore attacker Katie Checkosky and senior midfielder Mackenzie Schuler gave Robinson a 5-2 advantage and led to an Oakton timeout with 5:50 left in the opening half. Senior attacker Izzy Obregon found the back of the net and Schuler scored again, extending the Rams' advantage to four with 59 seconds on the clock.
ROBINSON then closed the first half with a three­goal flurry as Schuler, Checkosky and Obregon each scored in the final 20 seconds, giving the Rams a 10-2 halftime advantage.
"I think they were definitely hungry for the ball," Robinson head coach Liz Case said, "and they were kind of like, 'All right, we're done playing [around].'"
Goals by junior midfielder Taylor Caskey and sophomore midfielder Elli Kluegel early in the second half extended Robinson's lead to 12-2 and brought the running clock into effect. The Rams led by as many as 11 in the second half.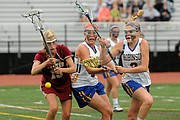 "I don't think we've ever wanted something more than this," Schuler said. "We've been working toward it all season and we finally achieved our goal."
Schuler tied a career high with five goals, including four in the first half, and added an assist.
Checkosky totaled three goals and two assists, and Kluegel finished with three goals and one assist. Obregon had two goals, Caskey tallied one goal and three assists, and junior attacker Kaitlin Luccarelli added a goal.
Oakton's lengthy first-half possessions "motivated us to keep getting that goal differential greater and greater because when they were holding the ball ... we definitely wanted to get the ball back," Schuler said. "We don't want the other team to have the ball. You can't win a game if the other team has the ball."
While the Robinson offense took a while to get going, the Rams defense was solid throughout, limiting Oakton to its lowest goal-scoring output against a public school opponent this season.
"This is actually, I believe, the first game that we've had a team play like that against us, where they just take so much time off the clock," said Robinson junior defender and captain Emily Skrzypczak. "It was kind of weird at first, but I think we definitely worked well and used it to our advantage because they would take their time and that would help us get set up and be ready for when they do want to go. Then we're all ready to crash and stop it and get the ball back."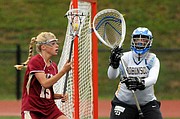 Junior goalie Danielle Valenti tallied 10 saves for Robinson, thwarting several free position shots by the Cougars.
"She always plays so well when we play great teams," Schuler said, "and she stepped up today ..."
What is Valenti's method to stopping free position shots?
"A lot of times coaches will scream, 'Shoot low!' or something, or I'll hear other players say certain things," Valenti said, "but, honestly, it's just reacting real fast. We take a lot of free positions in practice, so that helps me out too."
THE VICTORY improved Robinson's record to 19-1 and earned the Rams a first-round bye in the 6A state tournament. Robinson has won 13 in a row since losing to Georgetown Visitation, 18-11, on March 31.
The state tournament is scheduled for June 9-13 at Lake Braddock Secondary School.
"We've all been working so hard the entire year," Skrzypczak said. "Just to see it pay off is just so great."