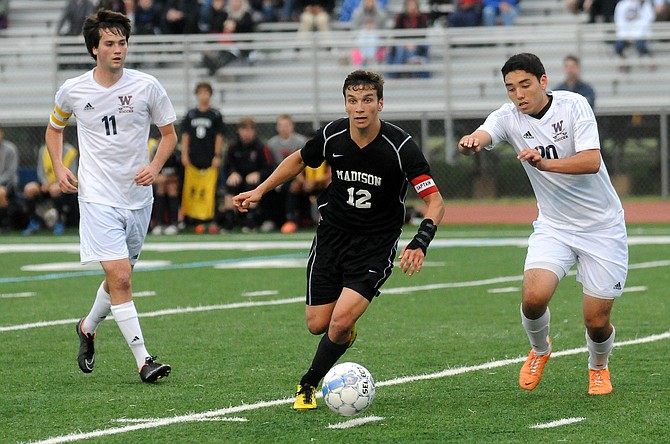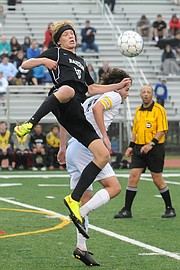 The Madison boys' soccer team focused on limiting mistakes during Wednesday's 6A North region semifinal match against Woodson.
With 15 minutes left in regulation, it was an opponent's miscue that opened the door for the Warhawks to seize control.
Woodson captain Sean Garin received his second yellow card of the evening when he grabbed a Madison player in the 65th minute of a scoreless tie. With the Cavaliers playing down a man, the Warhawks took advantage and secured the program's first-ever state tournament berth.
In the 79th minute, junior defender John Dyson's long throw into the box deflected off Woodson goalkeeper Brian Breslin, and junior midfielder Joey Irwin found the back of the net, giving Madison a 1-0 victory at Woodson High School.
Madison, the No. 3 seed from Conference 6, will travel to face Conference 6 champion Langley in the region championship match at 7 p.m. on Friday.
"We knew tonight was going to be based on whoever was going to make the most mistakes," second-year Madison head coach Matt Griep said. "We wanted to limit our errors by maintaining our possession. We knew if we were in possession of the ball that they could not hurt us. We got that quick counter and [Garin] tried to tug him down from behind and that was it. They were under the duress the rest of the half."
Irwin scored the game-winner with less than 2 minutes remaining in regulation. Irwin also scored the game-winner in sudden-death overtime during Madison's 3-2 victory over Lake Braddock in the opening round of the regional tournament.
"I think that really changed the game," Irwin said about Garin's second yellow card. "But I think we were dominating before that, as well. I think we should have won and we did win."
It was Irwin's fourth goal of the season and Dyson's ninth assist.
"On a dry day, [Dyson's long throw is] amazing," Griep said. "He's got nine assists so far this season … basically all from his big throw. We have a couple of different set pieces that we run off of it. As long as guys get to their spot, it's been where we've been the most dangerous all year."
Breslin, a first-team All-Conference 7 selection, attempted to catch the long throw but failed to hold on. The Woodson senior said he felt contact "right in the ribs," but added that he should have taken a different approach.
"I should have punched it out at a time like that," Breslin said. "I had both hands on it, but I could have easily double-fisted it out."
Woodson head coach Andrew Peck supported his goalkeeper.
"He got bumped," Peck said. "Brian is … probably going to be all-state, he doesn't drop balls. You have to foul him to take that ball out of his hands."
Peck led Woodson to an 11-7-1 record in his first season as head coach of the Cavaliers. Last year, Woodson went 5-5-3 and failed to qualify for the region tournament.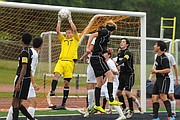 "To get one game from the state final four and the regional finals, that's a tremendous turnaround," Peck said. "I give a lot [of credit] to the seniors, the back line and the whole team overall just picked it up and started playing throughout the season [and] when it really mattered. Despite the loss tonight, they did well."
Madison improved to 11-6-1. The Warhawks' leading scorer this season with 10 goals is senior midfielder Stephen LaRow. LaRow was named team co-MVP, along with senior defender Ben Cliff.
"It feels great," Irwin said about qualifying for the state tournament. "I think we deserve it. We worked hard and I think Coach Griep did a great job bringing us there."
The state tournament will be held June 12-13 at Robinson Secondary School.
"It's pretty awesome," Griep said about being involved with the first Madison boys' soccer team to qualify for states. "We've done a lot of things to try and redefine the culture [after] a decade of losing seasons. Two years ago, before the coaching staff came in, they were 3-9-1. We took huge steps last year with some of our senior leaders getting these underclassmen on the right pathway. This is what it's about. It's more important about that name on the front of your chest as opposed to the back.
"It's been special, but this wouldn't be possible if they didn't buy into what we were selling. The kids are starting to believe in it, they're starting to believe in themselves and you can kind of see that in the pace of play that they're showing."