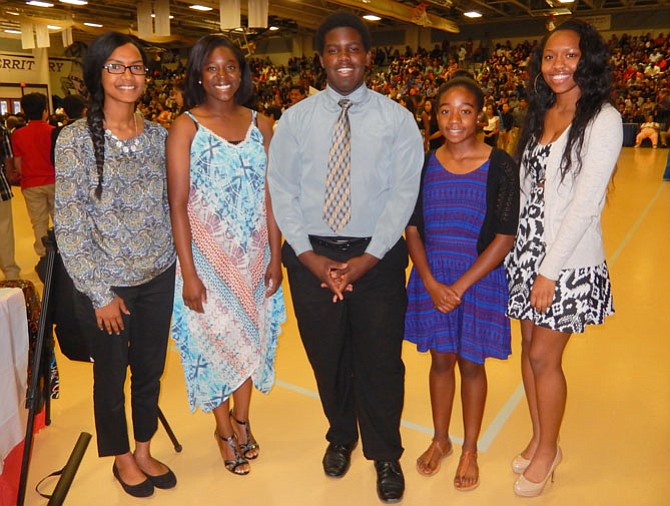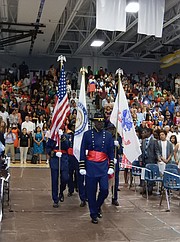 It was a time to celebrate. And that's just what happened at the Chantilly Pyramid Minority Student Achievement Committee's (CPMSAC) 30th Annual Youth Motivation and Academic Awards program.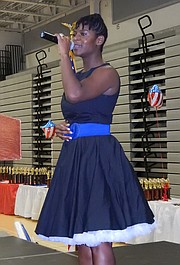 It was held Saturday, June 6, at Chantilly High, and the gym bleachers were packed with cheering and appreciative friends and family members there to see area high-school students be honored and recognized for their academic accomplishments.
"This year, we had the largest number of people receiving awards in 30 years, so you're making history," CPMSAC President Johnny Nelson told the students. "And we're celebrating you for the job you've done."
Kicking off the program by presenting the colors were the Junior Buffalo Soldiers of Mount Olive Baptist Church. Then Colleen Howard sang the National Anthem and, later, sang the senior tribute song, "Hero (Wind beneath My Wings)."
Six students received scholarships from CPMSAC and were specially acknowledged during the ceremony. Lawrence Wright, Centreville High, and Rachel Jacobs, Chantilly High, were awarded the Shirley O. Nelson Memorial Scholarship. And Cameron Guy Dudley Book Scholarship Awards went to Malaz Namir, Chantilly High; Madeline Naa-Koshie Powell, Westfield High; Morgan Carson, Chantilly High; and Arica Jackson, Westfield High.
Wright will attend Case Western Reserve University to major in electrical engineering; Jacobs, GMU, law; Namir, Virginia Tech, human development; Powell, GMU, communications; Carson, VCU, exercise science; and Jackson, Hampton University, nursing.
Saying CPMSAC's motto is "Only Excellence is Good Enough," master of ceremonies Chuck Coffin encouraged the students there to continue working hard and to be role models for their peers. He also acknowledged all the school administrators, staff members and facilities personnel for everything they do. And, he added, "Parents, continue to be involved in your child's education and provide a positive environment for them, because it makes a difference when you care."
Chantilly High Assistant Principal Karla Hogan and Sully District School Board member Kathy Smith also congratulated the students and wished them well. And Frances Ivey, FCPS assistant superintendent, Region 5, said three things were responsible for the students' success.
"You did the hard work, made wise choices along the way and excelled in the classroom," said Ivey. "And all the adults involved are very, very proud of you. To CPMSAC, thank you for 30 years of support and service to our schools. You've served as a model to our schools, community, state and, really, the nation, of how our students can succeed."
The Rev. Eugene Johnson, of Mount Olive Baptist Church, said June 6 is a national day of remembrance of the losses during D Day. "But today is also about young people who've strived, met challenges and took the opportunities to excel," he said. "Looking back over 31 years [of CPMSAC], I remember the vision we had for this day. Congratulations on your accomplishments and on what you will do — for you are a lamp that shines forward to a more perfect day. Keep that lamp burning."
The keynote speaker was former CPMSAC participant Janelle Greene Alabi, a 2003 Chantilly High grad and a member of its 2001 state championship gymnastics team. She later obtained a bachelor's in sociology and a master's in education and is now a wife, mother and a first-grade teacher at London Towne Elementary.
"Those of you here have already achieved some level of academic excellence," she said. "When I was here, I planned to go to business school, get a job and make lots of money." But then she changed her mind and worked hard to instead become a teacher.
"It's easy to set goals, but it takes a great deal to reach them, including grit — which involves determination, passion, perseverance and stamina," said Alabi. "It's sticking with your vision, year in and year out. For example, Walt Disney was fired by a newspaper editor because he 'lacked imagination and had no good ideas.' But he knew life was a marathon, not a sprint."
She said people like him, who have grit, don't let setbacks discourage them. "Grit has even been found to be more important than intelligence," said Alabi. "Students not as smart as others work harder. Do you have grit? Find your passion, work toward it and stick with it."
Alabi said the five characteristics of grit are courage, conscientiousness, follow-through, resilience and excellence, and she explained what it means to possess each one. She also said she dropped her business major when she realized she hated her classes pertaining to it. Instead, she became a teacher and, she said, "I love it."
"Life may knock you down through circumstances you can't control," said Alabi. "But it's OK to struggle and feel confused. Don't give up, but know that you're on your way to accomplishing your goals."