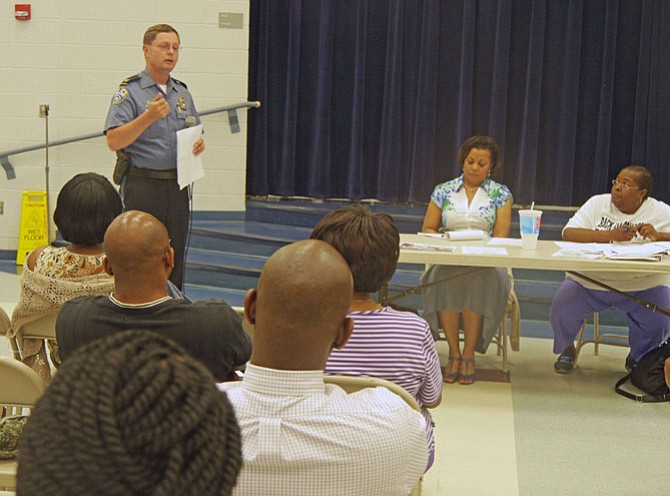 Jay Farr, addressing the Nauck Civic Association community meeting June 1, said he was there to " put a face to a position." He emphasized the importance of community outreach and input. As the new Arlington County Police Chief, Farr talked about the importance of diversity in recruitment and retention. He said most officers are good until about the seven-year mark, then they leave for Federal jobs or move from the area because it is expensive to live here. Farr said, "We have a big investment in people; they understand more when they have been around for a while, and getting people to stay is important."
One of the meeting attendees asked how Farr plans to get better, more rounded people in the force. Farr replied they are getting better applicants and he enumerated the requirements for hiring including a college education, which brings "a little more free thought and reality. I can teach them to be an officer in the Academy but college gives them different skills." In addition, they take a test, have thorough employment, criminal and background checks, a polygraph and then an extensive medical and psychological evaluation followed by a "21 week fun-filled class at the Academy."
Farr said community engagement is important across all sections of Arlington. "If I can get people engaged in what we do, the first line people, guys who work on the street, the first line customer; that's my goal." He said that traffic safety is the number one issue in this city — traffic-related speeding, congestion and accidents. Farr said the department is doing a good job on crime prevention and control but, "we won't rest on our laurels. We want to stay ahead."
Portia A. Clark, president of the Nauck Civic Association, asked if Farr had plans to bring back any of the programs that had been discontinued due to budget cuts. Farr said with $10,000 he could return the 12-week program that would allow any citizen to understand what "we do, how we make decisions, our challenges. We walk the entire criminal justice system." He said, "I plan to do this soon." The issue of how to have a real dialogue on race was raised. Farr said, "For me, community relationship is pretty simple, one relationship at a time."
Third District Commander Stu Ellis reported the news that crime is down in the Nauck area but there are a couple of trends including scams, particularly against the elderly and families from other countries demanding money. He urged people who have these residents as neighbors to help protect them. Another trend is the stealing of mostly unlocked autos.
Sergeant Damon Washington pointed out an upcoming ACPD Safety and Community Awareness Event to increase citizen awareness of both their own actions and the sometimes complicated decisions required by an officer. The free event, to be held at Kenmore Middle School July 18, also will offer a distracted driving course in which the driver can drive a golf cart wearing goggles simulating various alcohol levels to assess their driving ability under those circumstances. It will also allow a citizen to experience "15 Minutes Behind the Badge" in which they can see police interactions by accompanying them in simulated real life scenarios. They can wear the equipment, go to a roll call and get dispatched on a call. A canine demonstration directed at children is also part of the program as well as VIN etching in which a VIN number is etched into the glass windows of a vehicle, which helps prevent auto theft.
Matt Foley, Arlington County chief public defender, rounded out the explanation of the criminal justice system by explaining the responsibility of his office to represent people charged with an offense but unable to afford representation. Foley said a lot of them suffer from bipolar or schizophrenia that result in disorderly conduct, and they end up in jail as a result.
The theme of community outreach was reiterated, the importance to let people know about the services available. "They need to know us and trust us. If they have a contact with police, they have a lot of questions about how they know their rights, can a policeman search my pockets, my auto. We can help them navigate the system," Foley said.
The outreach involves churches, regular hours at the community center, distribution of flyers and attending community association meetings. "We'll go anywhere," Foley said, "to spread the information. We need to know what you need."