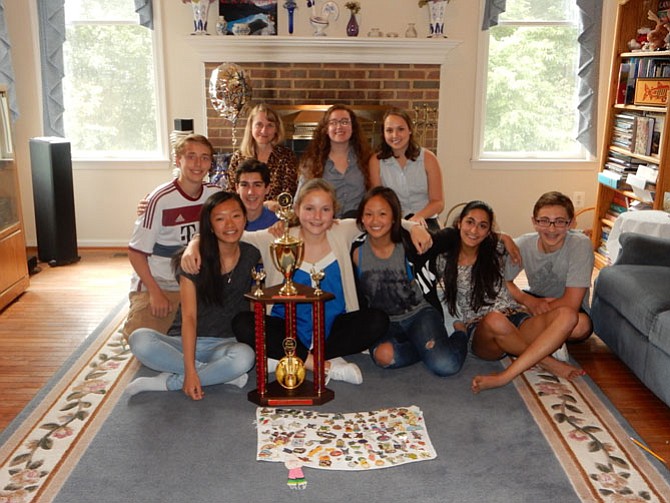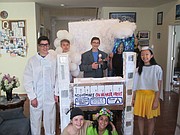 Between school, sports and activities, there is often little time for students to express themselves or to use their minds in innovative ways. To combat this are programs like Odyssey of the Mind, described by participant Charlotte Peterkin as a "creative competition, where participants receive a scenario and problem to solve, often through a skit. You try to be out of the box and steer away from the norm." Two teams from Rachel Carson Middle School participated at the World Competition this past year, one team placing third overall, and the other fourteenth.

Team One, led by coaches Emily Marko, Olivia Peterkin and Julie Estrada won third place in the world competition. Some of the members have been on this team together since the third grade, and have been working every year to improve upon their performance. As eighth graders, this team worked to solve a videogame edition of Pandora's box. "We had to have three evils, and a gaming character had to defeat all of them. At the end, we had to release hope. So we said that the biggest evil was disease, so we did a science theme. The scientist defeated misfortune, greed and monotony. In the end our 'hope' was soap," described team member Ethan Waple. Coach Marko added, "They took this problem so far out of the box." Their success led them to the World Competition, with over 800 international teams competing at Michigan State for five days. The team received bronze medals and when reflecting described the moment as "surreal."
THIS TEAM was not the only group from Rachel Carson to achieve success in this competition. Embarking on two different projects, the second group led by Coach Kothari and manager Mrs. Huckabee, competed in the Structure category, creating a balsa wood structure for the theme: "Lose your Marbles."
"We had to dislodge the marbles from our structure, so we created a technical pulley system. We had five scenes for each marble, and the main character would lose each one because of stress," said member Isabela Huckabee. Simultaneously, while performing this skit, other members of the team would be placing weights on their balsa wood structure, symbolizing the "pressure" the main character was under. This structure was able to hold 884 pounds. Their success took them to World's where they won 14th place overall and fifth place for their skit. "Overall, it was definitely worth it!" said member Prabha Girish. Additionally, member Neil Kothari even won the "Omar Award."
When asked "Why Odyssey of the Mind," coaches and students could not have had more praises for the program. "Being my tenth year with OM, I can see how it is a great way to infuse creativity into a student's life and allow them an outlet to be themselves. It makes kids see problems and look at materials in a different way. They can take everything they learn and apply it to the real world," said Coach Estrada. Additionally, the many laughs, inside jokes and text messaging groups within teams suggests the friendships this program helps kids create.
SUMMARIZED by Coach Marko of Team One, "The best part is the bond that they've formed. They will have friendships together that will last a lifetime. They all do different things; we have athletes, kids in drama, art music, and yet they all come together. It's amazing."