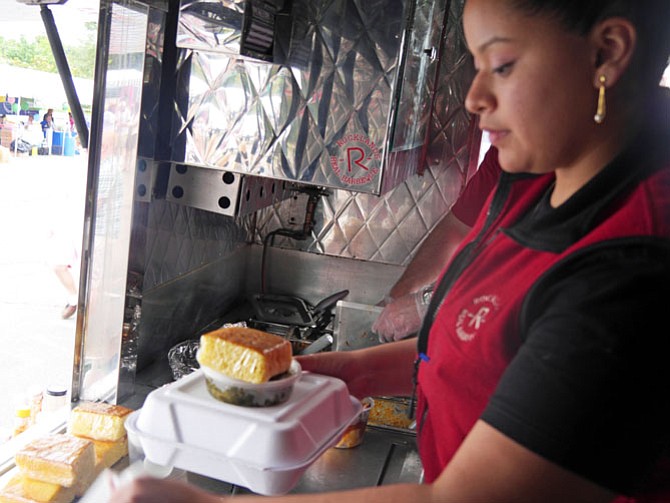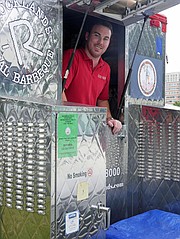 Mike Tokarz has pulled on his transparent plastic gloves and scoops out the second layer of the Pearl Special, a pint-size container layered with mac and cheese, baked beans and chopped pulled pork in the Rocklands Barbeque food truck kitchen. Rectangular aluminum pans sit on the counter filled with the day's food truck offerings already cooked and kept warm. Claudia Cruz, food truck coordinator, says they "always change up the menu. If we know there will be a lot of kids, we bring out hot dogs sometimes."
A woman is outside reading today's menu on the side of the truck. She steps up to the window and motions for a paper and pencil so she can write down her order. Cruz pulls out a rack of baby-back pork ribs, spoons a small container full of collard greens and stacks a large chunk of plastic wrapped-cornbread on top. A man stops to ask about beef ribs. "I don't eat pork," he says. Cruz answers, "sometimes we have brisket or beef ribs, but not today." With only a cramped space to move around in, the selections offered in the food truck vary each day with Cruz and Tokarz bumping elbows as Cruz takes the orders and Tokarz dishes them up for customers.
Tokarz worked in the Rocklands catering department for four years and Cruz in the Rocklands restaurant for two years before coming to the food truck. She said the Rocklands food truck is "one of only five, I think, registered food trucks in Alexandria." They have a regular route of Monday, Saturday and Sunday at Port City Brewing Company, Tuesday at Duke Realty and Thursday at Mark Center with Wednesday for private events. Today's favorite has been a pulled pork sandwich with coleslaw. "It is only 3 p.m. and we've already had over 200 customers, " Cruz says.
THE BIG SELLER today for The Big Cheese food truck is the Caprese with mozzarella, tomatoes, balsamic glaze and pesto on sourdough. Patrick Rathbone, owner of the food truck, says they have 25 different cheese sandwiches this year, all made with artisan cheeses, but they aren't all offered in the food truck at the same time. They are made in the kitchen rented from Logan Sausage Company located three doors down from Port City Brewing Company on Wheeler. Then each sandwich is grilled fresh in the food truck kitchen for the customer.
Today's choices include the exotic lemon-fig spread with chevre on multi-grain bread and Thrilled Cheese, the chipotle cheddar with jalapeños and guacamole on sourdough bread. This is the personal favorite of Andre Elllis, also in the food truck kitchen. "I like something a little hot," he says. Piles of wrapped, already assembled sandwiches are stacked on the counter beside the grill. Rathbone said the artisanal cheeses come from International Gourmet Foods, Coastal Sun Belt, and a dairy in Vermont. Rathbone flips over a slightly browned sandwich with cheese oozing out the edge and places a grill weight on top. "Helps it to cook faster," he says.
Rathbone owns two food trucks and this one is the travelling truck. "We're going to the Bonnaroo Music and Arts Festival in Tennessee on Sunday. "We'll be taking 4,500 sandwiches in a refrigerated compartment. But," he said, "We'll keep these grilled cheese sandwiches simple. They want something they can get their head around." Ellis has been cooking in restaurants for 20 years and joined Rathbone in April. Rathbone says he bought the food truck Dec. 10, 2010 when "it was a good time to buy a food truck but today there are so many that a new one doesn't even get noticed." He says after managing restaurants for a number of years he had been planning to buy one, but a food truck was more affordable. "It's better than a real job."