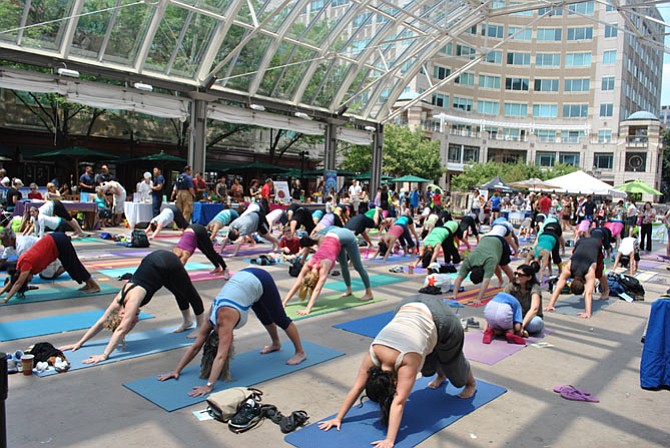 Yoga studios and wellness centers of Northern Virginia will offer classes, services, and share information at Love Your Body Yoga Festival (LYBYF) on Sunday, June 14 from 10 a.m. until 3 p.m. at Reston Town Center, 11900 Market Street, Reston. With free admission, LYBYF offers free activities and entertainment for the whole family including live music, healing demonstrations, food samples, and soothing therapies such as Reiki, chiropractic, massage, and yoga. Donations for participation in specific classes will benefit Cornerstones and the Brad Kaminsky Foundation. For children, the Kidsana Area will offer storytelling, laughter yoga, and more, for all ages. New highlights are presented at this year's event, and all are invited to enjoy the variety of activities, free prize drawings, and many booths on Market Street through the day at the 7th annual Love Your Body Yoga Festival.
A sampling of scheduled Love Your Body Yoga Festival activities are listed below and the full schedule is online. For more information, call Beloved Yoga, 703-860-9642, email maryam@belovedyoga.com, follow on facebook.com/LoveYourBodyYogaFestival and visit www.loveyourbodyyogafestival.com.
The event begins with an opening flow in the Pavilion led by Amir Tahami of Sun and Moon Yoga, Susan Van Nuys of Health Advantage, Stair Calhoun of Little River Yoga, and Maryam Ovissi of Beloved Yoga. Classes follow throughout the afternoon, ending with a Community Kirtan & Closing Synergy Circle from 4 p.m. until 5 p.m.
KIDASANA AREA
10 a.m. "My Mom" book series excerpts (All ages) (Robyn Ringgold)
10:30 a.m. Young Yogis (ages 6-12) Easy Day Yoga
11 a.m. QiGong Animal Frolics (ages 5-11) Sun and Moon Yoga
11:30 a.m. Family Yoga and Kirtan (all ages) BE Yoga
12 noon Kids Kundalini (ages 3-10) Radiant Child
12:30 p.m. Little Pretzels (ages 4-9) Dancing Mind Yoga
1 p.m. Yoga for Tweens (age 10-13) Dream Yoga
1:30 p.m. Adaptive Yoga (All ages) Loudoun Valley
2 p.m. YoKid Yoga (ages 7-11) YoKid
2:30 p.m. Creative Movement (ages 11-15) Creating Conscious Contact
3 p.m. Young Yogis (all ages) Easy Day Yoga
3:30 p.m. Laughter Yoga Party (all ages) Beloved Yoga and Friends
THE ANCIENT ART OF HEALING
11:30 a.m. Introduction to Ayurveda and Yoga for Healing (Ileana Gonzalez & Heather Hagaman)
12 noon Yoga for Alzheimer's (April Stern, Author of TESS: A Little Lady with Big Ideas & Margaret Townsend)
12:15 p.m. Senior Chair Yoga (Margaret Townsend)
12:30 p.m. Yoga to Balance the Mood (Larry Uman, LPC)
1 p.m. Yoga for Health and Vitality; Hormones, Gut, and Brain Health (Dr. Lisa Lilienfield)
1:30 p.m. Yoga for Addiction Recovery (Heather Hagaman & Jacques de Broekert, PsyD)
2 p.m. Yoga for Special Needs for Children and Adults (Vasanthi Srinivasan)
3 p.m. Seven Steps to Optimal Health (Lisa Jackson)
3:30 p.m. Less is More: Retreat as a Healing Art (Marcia Childress)
The event also launches the official start of the 8th annual Virginia Yoga Week, June 14 – 21, when yoga studios and independent teachers will be offering free, five-dollar, and Karma classes throughout the Commonwealth.
Love Your Body Yoga Festival is organized by Beloved Yoga, which has studios in Reston and Great Falls, and is presented with support from other local businesses and community volunteers. Beloved Yoga has also created a Mind Body Fund, supporting yoga teachers to go into the Cornerstones community, making yoga accessible for all.