In the second year of her three-year term as the poet laureate of Alexandria, Tori Lane Kovarik is struck by the diversity of what she calls "pockets of poetry" in the city. From spoken word to homegrown punk, Kovarik hears people of all ages engaging in wordplay.
Kovarik, a Burke native and graduate of Christopher Newport University is the author of two collections of poetry, "Falling Season" and "The Beautiful Ruins." She created the concept of "Poetic Intersections," an open community event held for the first time at the Durant Arts Center on May 15, with the hopes of highlighting non-traditional ways to celebrate language. "A lot of things can be poetry," she said, "novels, song lyrics — whatever grabs our hearts."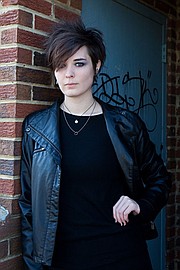 The group assembled for the inaugural "Intersections" showed that the raw material for a richly variant community of letters is already alive in Alexandria. Tattooed millennials, Alexandria arts supporters and educators, local middle, high school and college students all had a stake in Friday's event. Wit, irony, a hint of the absurd, individual and national tragedy and, of course, love all made an appearance in the works shared.
Kovarik opened the event by reading a poem by Billy Collins and a passage by Elie Weisel to the small group assembled in a circle of plastic chairs. Attendees shared their own work which included original poetry, both deeply personal and playfully abstract and also shared pieces by established authors and lyrics by celebrated songwriters. Prose and song were shared as well.
Debbie Hardy of Community Lodgings, a program that works with families to transition out of homelessness, was inspired to start writing again when the organization started developing the Book of My Own Project. Seeing what the students wrote drove her to reconnect with her love of poetry.
Accompanying Hardy was NOVA Communications student Lakia Dozier, a singer and lyricist who defines poetry as "speaking from your soul." The young woman, who did a recitation of one of Hardy's works, participates in poetry events all over Arlington and D.C., but didn't know a lot about events in Alexandria.
Kovarik is looking to change that. "Poetic Intersections" was purposefully scheduled in May to take advantage of the momentum from April's National Poetry Month. Kovarik hopes to hold another event this month and throughout the coming school year to bring together the scattered interest in poetry that exist in Alexandria into a larger community.
Kovarik closed with the poem that made her a writer, "An Horation Notion" by Tomas Lux, a piece that discusses the work required of a creative life. She shared the story of hearing the poem her senior year in high school and how those words, and the educator who shared them with her, inspired her to become the writer she is.
To learn more about future iterations of "Poetic Intersections" and other Poet Laureate approved events, you can consult Kovarik's website, http://www.tlanekovarik.com/