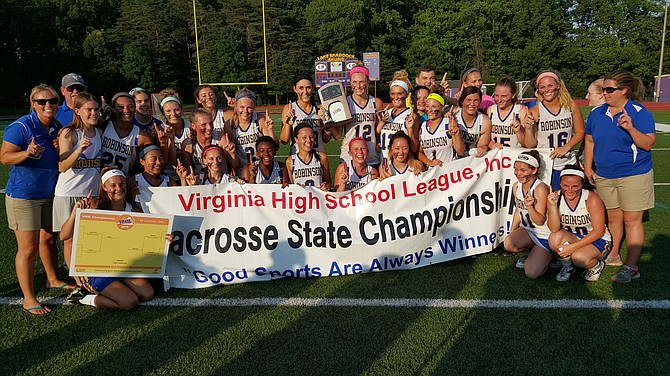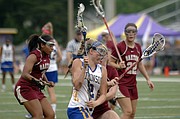 The Robinson girls' lacrosse team had several motives for potentially sleepwalking into Saturday's 6A state championship game against Oakton at Lake Braddock Secondary School.
The Rams had already beaten the Cougars twice, each win coming with at least a seven-goal margin of victory.
Four days prior to the state final, Robinson earned a dramatic overtime victory against a Centreville team considered to be the Rams' toughest public school competition during the season.
And if those two reasons weren't enough for the Rams to experience a letdown, Robinson held its prom the night before the championship game.
When Saturday arrived, Robinson built a 9-3 halftime advantage and led 11-5 when sophomore attacker Katie Checkosky scored with 16:10 remaining in the second half. But as the Rams have done in the past, they allowed an opponent to creep back into a game.
Oakton scored five straight goals, six of the next seven and trailed 12-11 when sophomore attacker Stephanie Palmucci found the back of the net with 7:05 remaining.
"When we were on the field ... we rallied behind Danielle [Valenti], our goalie, and ... she would tell us, 'Guys, we are not going to lose this game. We've come so far, we're not going to lose this,'" Robinson sophomore All-American Elli Kluegel said. "When [head coach Liz] Case called a timeout when they started coming back, she ... just pretty much told us there's no other option than coming through with a victory."
Robinson took care of business when it mattered most, scoring four of the game's final five goals on its way to a 16-12 victory on June 13 and the program's first state championship since the VHSL started recognizing lacrosse as a varsity sport in 2006.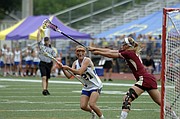 Robinson closed the season on a 15-game win streak and finished with a record of 21-1, with its only loss coming against private school power Georgetown Visitation. The Rams won Conference 5 and 6A North region titles, and weren't going to let anything ­­­ on or off the field ­­­ stop them from capturing a state championship.
"[For] all the players, states is their first priority," said junior midfielder Taylor Caskey, who was one of the Robinson players to attend prom. "I know this for a fact: that we all knew this was the big thing. You can have every night of your life to party and have fun, but states is a once-in-a-lifetime --- maybe twice, if you're lucky --- kind of thing. I think that's something we weren't going to take for granted as we went into this game and [prom] last night."
Robinson attacker Izzy Obregon finished with a game-high four goals, including a pair in the final 5 minutes, 29 seconds. The senior standout's high school career included playing for three different schools (Woodson, Bishop Ireton, Robinson), committing to the University of North Carolina, de-committing, and finally choosing to play at the University of Maryland.
"It's been a roller coaster ­­­ like an absolute roller coaster," Obregon said. "But I wouldn't change it for anything because I have grown as a person through it all."
Kluegel, Checkosky, and senior midfielder Mackenzie Schuler each scored three goals for Robinson. Junior attacker Kaitlin Luccarelli finished with two goals and Caskey added one.
Checkosky tallied five assists, Luccarelli finished with two and Schuler and Caskey each had one.
Goalkeeper Valenti totaled eight saves for the Rams.
Case took over as Robinson head coach in 2012 and led the Rams to a 3-10 record in her first season, according to results from laxpower.com. Robinson improved to 6-8 in 2013, and in 2014 the Rams finished 12-7, losing in overtime to Oakton in the region semifinals.
"I knew last year when we were making that turning point, I was on the right track," Case said. "I just knew that [if I] keep working hard and keep instilling good discipline and habits and keep challenging them every day at practice ... that this was what we could accomplish."
Robinson will lose just five seniors ­­­ Schuler (captain), Obregon, attacker Sasha Towne, defender Rena Pillow, and attacker Alana Clark (captain) ­­­ to graduation.
Caskey, Kluegel, Checkosky, Luccarelli, Valenti and junior defender, team captain and Ohio State commit Emily Skrzypczak project as Robinson's top returning athletes in 2016.
"We're losing some people," said Caskey, a George Mason commit and junior captain, "but at the same time we all know that we have such a strong connection that we can carry that on to next year and make another run at states, hopefully."
Was Saturday's win the start of a multi-year title run?
"That's definitely on all of our minds," Kluegel said. "That's a huge goal for us."