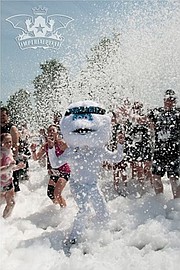 Get ready for summer fun as the second-annual, family-friendly 5K Ice Cream Race will take place on Saturday, June 27 at Bull Run Park in Centreville. There are nine different start times that run every 30 minutes, from 8 a.m. to 2 p.m., where roughly 300 to 400 people run in each time slot. Highlights include 15 obstacles, including new ones such as the Sticky Icky, Inflatable Obstacle Course, Inflatable SlipN Slide, Rope Wall, and the Beloved Beam. Upon completion, every finisher will receive a custom T-shirt and swag from the vendors, as well as ice cream.
"If you enjoy running fun runs, obstacle races, mud runs, and 5K's, then this race is for you," said founder Max Bawarski, 32, of Manassas. "You will be laughing and screaming all the way to the finish line for the coveted prize, free ice cream."
Bawarski is a P.E. teacher at Providence Elementary in the City of Fairfax. He organized three Blood and Guts Runs during Halloween that had 5,000 attendees, and he is planning his fourth Blood and Guts Run on Saturday, Oct. 24.
For added fun, there will be an ice-cream eating competition, DJ Dance party and Zumba as well as a beer garden and food trucks. The ice cream, which includes flavors of vanilla, chocolate and sorbet, and sprinkles, will be provided by Scoops2U.
The Ice Cream Race is an all-ages and all-abilities event. Runners will be greeted at the finish line with ice cream, food trucks, a beer garden, cool vendors, ice cream eating competitions, and Zumba on the stage. Every paid runner receives a custom-made T-shirt.
The Ice Cream Race is the perfect event for groups and families. There are 15 fun obstacles that you will encounter while running/walking the 5K course. Some of the wild and crazy obstacles include: Hershey's Chocolate Syrup Water Slide, the Banana Peel Pit, Whipped-Cream like foam, Cherry Bombs, Sticky Icky and more. Runners are encouraged to wear costumes and have as much fun as possible.
The Ice Cream Race will be held Saturday, June 27, from 9 a.m. to 3 p.m. The non-timed races will begin every 30 minutes starting at 9 a.m., 9:30 a.m., 10 a.m., etc., with 300-400 people in each segment. Cost is $49. A portion of the profits from The Ice Cream Race will benefit the Leukemia & Lymphoma Society.
The venue is at Bull Run Regional Park, Special Events Center, 7700 Bull Run Drive, Centreville, VA 20121. For more details, go to www.theicecreamrace.com or email support@theicecreamrace.com or call Max Bawarski at 703-593-3173.