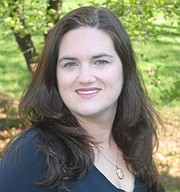 In local author Rebecca Glenn's debut novel "Becoming Lisette," a tale emerges of an independent French girl pursuing her dreams to overcome cultural and historical boundaries in the artistic world of late 18-century France.
Glenn is a graduate of Brown University and the University of Chicago where she earned a Master's Degree in Art History, and is a current professor in art history. She thus possesses a keen insight into the subject that allows her to depict historical France with accurate attention to detail.
Kristin Clark Taylor, a fellow Great Falls resident and facilitator of the Great Falls Writer's Group, finds that Glenn's expertise in art history was a highlight of her experience in reading "Becoming Lisette."
"Rebecca filled each page, each and every scene, with tone and texture; she took me by the hand and led me straight into that rich period of French history."

--Kristin Clark Taylor
"That Rebecca is a serious student of art history and has organized museum exhibitions and moved about comfortably in the art world adds a unique depth and dimension to the book itself," she said. "Her own background and expertise splashes the characters and the plot line with a refreshing authenticity and believability."
DESPITE her extensive education and career in art history, Glenn spent two years further researching the actual historical figure of Élisabeth Vigée (Lisette) and the world she lived in to heighten her reader's experience.
"It was really important to me that, when you are reading my book, you feel you are there, which comes with those little details, which take lots of research to figure out," Glenn said. "And though it took time, it was worth it, because then I can give the readers the best experience as possible."
Glenn's choice to focus on the life of Vigée stems from her love of the untold stories of strong and inspiring women in history.
"I want to write about women in history, like Élisabeth Vigée, and women that most people might not know about but did remarkable things, so more people can know about them and maybe be inspired by them too," she said. "Vigée is just one example of a woman in history that has gone against grain and done what she wanted to do."
Coupling the historical truths of Vigée's life and 18th century France with some of the fictional elements of the plotline was a learning process for Glenn. Despite a long career of academic writing, she found writing historical fiction unfamiliar.
"I have done a lot of academic writing, but fiction is a totally different thing in many ways," she said.
After four years total of research and writing drafts, "Becoming Lisette" was released in April 2015 as the first novel of a trilogy detailing the story of Vigée in a series titled the Queen's Painter.
THE FIRST NOVEL details the initial stage of Vigée's life as a talented young artist trying to build a career in oil painting, despite the controlling nature of her stepfather and the 18-century prejudices against female artists in France.
According to Kristin Clark Taylor, reading "Becoming Lisette" is a "sheer joy."
"Rebecca filled each page, each and every scene, with tone and texture; she took me by the hand and led me straight into that rich period of French history," Taylor said. "Rebecca's writing is fearless, bold and believable -- rare attributes for a first-time author. I'd be deeply disappointed if she doesn't come out with the sequel very soon. I'm hungry for more."
The novel has also received high customer reviews on goodreads.com and amazon.com. Glenn expects to release the sequel before the end of the year.
Rebecca Glenn is a resident of Great Falls and the mother of three children who attend Forestville Elementary. More information about the author can be found on her website, RebeccaGlenn.com.