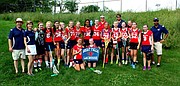 Six teams from Great Falls Lacrosse advanced to the Northern Virginia Youth Lacrosse League Championship games this past weekend, five winning their division championships.
The Great Falls Lacrosse girls grades 7/8 beat an undefeated Vienna team 13-5 to clinch their championship game in Tier 1 of the Upper B division, led by head coach Jeff Grimson and assistant coaches Ayub Khan, Kirk Boyd, Gene Canfield and Pam Torok.
"I was so proud of this group of girls, many of whom are graduating 8th graders who have played Great Falls lacrosse for 10 years," said Grimson. "They showed incredible heart."
The 3/4LB girls team beat Annandale by one goal in the semi-final game to proceed to the championship, but lost to Algonkian in the final game.
The boys U11AA team, led by head coach Gage Beckwith and assistant coaches Patrick Dunne, Gabriel Finger, Christian Gaibler, Fritz Goettman and Tyler Wes, won against Arlington to secure the Tier 1 championship 6 to 5 in overtime.
Great Falls U15 boys swept the championships – the U15UB team, led by head coach John Bellino and assistant coach Mike Stys won 9-4 over Ashburn, and the U15AA team, led by head coach Bryan Hoynak and assistant coaches Davis Walker and Mike Stys, won 10-6 over Dulles South.
The Great Falls boys High School team won against Vienna 8-7 to secure an undefeated season, led by head coach Greg Beckwith and assistant coach Bill Pugh.
It was a record year for Great Falls Lacrosse.
Joe DiOrio, the Commissioner of Great Falls Lacrosse Association, said these five championships are a wonderful achievement and an all time first in Great Falls Lacrosse history. "Great Falls Lacrosse Association has developed a very strong program that allows players to play year round if they would like," he said. "Our new player clinics, Fall Ball Program/Clinic, and indoor winter involvement has helped develop our players as well as the coaches and parents embracing the tenets of the Positive Coaching Alliance (PCA) which facilitates a good experience for everyone involved and has families wanting to return to GFLA, which is one of the primary goals of our program."