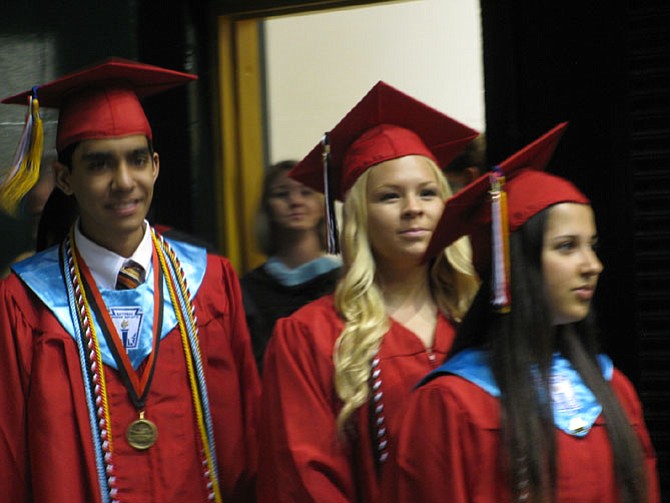 "Hope is a feeling that everybody understands. It means the same thing in every language," said Herndon High School senior Fatma Gdoura.
Gdoura was one of the nine senior class council members to address Herndon's graduating class on Wednesday afternoon, June 17 at George Mason University's Patriot Center.
"It is what unites us now," she said, to her classmates, teachers, administrators, school board members, Board of Supervisors, superintendent, parents, friends, family and more.
Herndon High School Principal William Bates told students what he thought of the Class of 2015.
"We encourage you, we support you, we appreciate you," said Bates, who was honored by the Fairfax County Board of Supervisors earlier this spring.
"We thank you," he said.
Students selected teacher Christopher Gannon to speak at their graduation.
Although first honored, he said, his emotions started to shift as he analyzed what must have been the true motivation behind his selection by his students.
"I think I was asked to give this speech as a sign of revenge," he said, to laughter from the crowd.
He said he then tried to empathize; he thought about how his students tackled the assignments he gave them throughout the year.
"I contemplated not doing it," he said.
"Then I did what I know all my students do, I texted a friend," he said, to more laughter.
Then, in an act he said he finds just as anthropologically peculiar as parents must, Gannon took a "selfie" of himself giving his commencement address to "immortalize" the moment.
"I believe all students are capable of success. I am eager to see all that you do to contribute to the world," he said.
Emma Rose Hammersley received a standing ovation from her peers as she stepped from the podium with an escort from Herndon's High School NJROTC member Ian Herring.
About 448 of her classmates graduated last Wednesday.
Principal Bates said the last words to his students, before they shifted their tassels, tossed their caps in the air, and left the George Mason basketball floor forever as high school graduates from the Class of 2015.
"We know you will change the world," Bates said. "The world is counting on you."
Herndon High School The Class of 2015
Zain Alabdin Abdulaziz
Bugrahan Abdulkarim
Nadine Khalil Abu-Ghannam
Jessica Frempomaa Addai
Mohammed Adeebuddin
Nana Amankwaa Adu Ampomah
Shayla Parvin Ahamed
Leena Ahmadi
Maliha Alam
Jorge Efrain Alcantara-Henriquez
Noemi Kassandra Aleman
Tatiana Itzeel Aleman
Denilson Ernesto Alfaro
Ayman Mohamed Ali
Nathalie Elizabeth Allen
Yousif Mohammed Redh Alturaihy
Flor Idalia Alvarado Navarro
Karina Yamileth Alvarenga Alvarenga
Jorge Alberto Amaya Flores
Henry Steve Amaya-Alcantara
Mercy Agyapoma Anane
Anthony Michael Arace
Edwing Gabriel Arana Arana
Cesar Guillermo Arellano Gonzales
Melquisedec Argueta
Quevin Joel Argueta Guzman
Yoleny Vanessa Argueta Lemus
Muhammad Asher
Mariam Ashraf
Komal Asif
Oscar Henry Avelar Martinez
Saul Antonio Aviles
Steven Saad Rizkalla Aziz
Prince Kwesi Baidoe
Grace Catherine Bailey
Bryan Daniel Balas Melgar
Bryce Patrick Ballard
Gabriella Danielle Bambino
Jared Tyler Bane
Luis Daniel Batres Umana
Angel Eduardo Becerril Pacheco
Martha Paloma Becerril Pacheco
Charles Robert Bednarek
Nargis Behgoman
Sophia Serrano Bengzon
Jake Lewis Bentley
LeClare Rachel Beres
Nasier Marquel Best
Anagh Ravi Bhave
Jessica Margaret Blystone
Elizabeth Ayers Bohnslav
Savannah Marie Bojokles
Jose Uriel Bonilla
Silvia Melany Bonilla Reyes
Jack Cromwell Booma
Macalin Alexis Pavani Booth
Sydney Alexis Bowden
Adam R Boynton
Sophie Claire Boysko
Justin Taylor Bradley
Ryan Vincent Brickman
Troy Anthony Brunson
Nefra Olympia Bruzual
Sydney Christine Bryan
Lamik Jamal Bumbrey
Shamar Lamont Burkes
Logan Joseph Burns
Gabriela Noemi Bustamante Montenegro
Brian Edward Butler
Mario Antonio Caballero
Samuel Caballero
Amy Yanet Cabrera
Kevin Adalbert Callejas Mejia
Denis Olexis Canas
Katherine Nicole Carlson
Hannah Patrice Carrithers
Alejandra Maria Ceron Alvarado
Samuel Quinn Chanesman
Wendy Beatriz Chavez Soriano
Kylie Shaye Chichester
Thomas James Clarke
Erin Eileen Clegg
Christina Anne Cleveland
Alison Elizabeth Coley
Joy Alexis Collins
Janessa Imani Collymore
Camia Elizabeth Cook
Lydia Kinkead Coyner
Giovanni Duantre Crawford
Carlee Marie Craze
Matthew David Crichton
Sarah Katherine Crum
Jonathan Alexandre Cruz
Maria Fe Cruz Castillo
Jose Daniel Cruz Santos
Payton Gail Cumbie
Justin Stefan Da Cruz Huntley
Natalie Elizabeth Day
Ester De La Cruz
Elena Kumari DeGeneste
Eduardo Alberto Delgado Rivas
Marc Descour
Marin Shanahan Deutrich
Demba Dioum
Ramatoulaye Dioum
Natalie Marie Doucette
Katherine Isabelle Dougherty
Elizabeth Ashley Drake
William Kent Dubler
Robert Adam DuBois
Tia Fortunato Dubois
Alexis Marie Duke
Sean Eric Dunbar
Jacques Daniel Durand
Lindsay Elizabeth Eastham
Peter Connor Eccleston
Fouad El Yaouti
Christopher George Ellefson
Jacob Patrick Elliott
Zion Elizabeth Elliott
Samantha Caitlyn Ennis
Ian Christian Epprecht
Alessandra Paola Erazo
Griffin M Eskridge
Enrique Alexander Espinoza Gomez
Sarah Isam Estwani
Crystal Michelle Fausett
Melanny Rocio de Jesus Fernandez Kukurelo
Kerry Christina Fico
Colleen Oh Flanagan
Leah Katherine Fleig
Jack Noah Fleisher
Keegan Lowe Flood
Melissa Sarai Flores-Sandoval
Renee Nicole Foechterle
Alexis Franchet
Abigail McDonald Frazer
Jennifer Megan Freeman
Veronika Catherine Funke
Shannon Nicole Gaffey
Adam Vincent Gallelli
Andrew James Galloway
Adriana Guadalupe Garcia
Maverick Gastav
Amit Arjun Gattadahalli
Fatma Gdoura
Patrick Thomas Geery
Christopher Douglas Geis
Ahmad Shah Ghazi Alam
Jordan Elizabeth Gilmore
Karly Rose Ginieczki
Puyush Kumar Goel
Devon Alexander Goldsby
Jordan Caroline Golomb
Jacquelyn Vanessa Gomez
Sebastian Anthony Gomez
Cameryn Jane Gonnella
John Fotch Gordon III
Chet Miles Grand Pre
Zena Brielle Meriz Greer
Joshua Michael Griffin
Yesenia Liseth Guandique Argueta
Yelmi Christela Gutierrez Posadas
Iris Odalys Guzman Ayala
Suha Hafeez
Samantha Renay Halorday
Emma Rose Hammersley
Charles Evan Hampton
Ashley Brooke Hardin
Spencer Timothy Harding
Caleb Christopher Harris
Maxwell Lewis Heinemann
Mitchell David Helbig
Aubrey Jade Henderson
Jasmine Lisette Henriquez
Margaret Marie Henry
Andrew Christopher Hensley
Francisco Javier Hernandez Orellana
Helen Wymard Hinders
Sean Michael Hines
Christine Laura Horting
Andrew Miller Hoskins
Nazmul Hossain
Bailey Annabelle Hubble
Michelle Renee Huchette
Madison Olivia Hummel
Bethany Nicole Hurd
Madmoud Hassan Huruse
Arbaz Hussain
Sergio Marcelo Ibarra Camacho
Aqsa Ilyas
Sana Ilyas
David Vesna Im
Madison Antonia Ingalls
Andrea Catari Ipinza
Ahmed Muneeb Iqbal
Nicole Christina Izurieta
Delaram Jaber
Jennifer Jacob
Tess Kathryn Jacobson
Kenneth Robert Jagers
Munkhtulga Jargalsaikhan
Joe Daniel Oliver Jasper
Katherine Naomi Jobson
Andre Michael Johnson
Conner Gregory Johnson
Dante Marcellius Jones
Kyle Eric Jones
Nicholas Paul Joseph
Austen Todd-Joseph Katcham
John Fahey Kelly
Ayub Khan
Leland Henley Kidder-Goshorn
Christina Haemin Kim
Shireen Amara Klein
Zachary Harrison Klein
Zachary McCulloch Knox
Brady Nicholas Krauser
Matthew John Kronkaitis
Christopher Matthew Kucik
Matthew Douglas La Rosa
Lauren Anna Lamoglia
Brian Neftali Landaverde
Allison Angeline Landrum
Anthony Lansdown
Olivia Mae Lewis
John Lin
Nickolus LaRue Linton
Jade Melissa Little
Jennifer Edith Lizama
Miguel Antonio So Locsin
Jamie Jonatan Lopez Lozano
Adriana DeRosa Lundgren
Christopher Weldon Luparello
Andrew Marshall Lytle
Jason Matthew Maccannon
Shawn Alexander Maccannon
Aikeda Maerdan
Jose Luis Majano
Atilano Guadalupe Maldonado Rodriguez
Allison Rae Mank
Gloria Michelle Marmolejos
Maggie Rosibel Marquez-Carrillo
Franco Augusto Martinez
Rodrigo Jair Martinez Serafin
Melanie Jo Martire
Guzal Shavkat Kizi Marsharipova
Amasyah Centrell Mayo
Kevin Matthew McCarter
Brady William McClellan
Riley Elaine McFarlane
Graham Andrew McGowan
Paul Michael McGuinness Jr.
Lennon Viet McKay
Isaiah William McKee
Ryan Neil McLaughlin
Ashley Jenna Medeiros
Emanuel Mehart
Alexis Roberto Melecio Arriola
Kristal Anna Melendez
Luis Fernando Mencia Martinez
Josue Manuel Mendez
Ara Menedjian
Jacob Richard Mitch Mills
Nafisa Sarosh Mir
Laura Hope Mister
Jacob Michael Moberly
Ibrahim Hussein Mohamed
Shukri Mohamud
Dupree Anthony Monk IV
Matthew Francois Monos
Alyssa Lorraine Montandon
Isaac Brian Montano
Robert Flinn Moore
Jorge Alexis Morales-Flores
Julia Taylor Morgan
Jack Richard Morris
Katherine Elizabeth Mraz
Christian Eduardo Munguia
Henderson Alexander Munoz Sibrian
Giovanni Alexander Murcia
Dominic James Murn
Alexis Sara Murphy
Erin Rose Murphy
Virginia Carolyn Lee Noel Murphy
Jennifer Nadia Naciri
Erica Brooke Nagy
Nicholas Janos Nagy
Nay Naing
Anthony Manuel Najarro
Isra Nasir
Ali Sajjad Nasrahti
Karla Carolina Navarrete
Dolly Anne Nazario
Molly Kathleen Griffin Newell
Angela Mingcan Ngo
Kiet Kieu Anh Nguyen
Xuan Thi Anh Nguyen
Jack Henry Nicolai
Nadila Nijiati
Nazili Nijiati
Elizabeth Marie Nixon
Carima Rashid Nur
Sonia Owusu Nyantakyi
Miles Heiten O'Bryan
Ronan Garrett O'Day
Jenna Marie Odeh
Ryan James O'Laughlin
Fabrina Om
Olivia Jane O'Malley
Kensy Daniela Orellana Orellana
Stephanie Lizabeth Orozco
Erick Orta Marquez
Jael Marisol Osorio Rodriguez
Sarah Kate Overton
Avaija Tatiyana Owens
Dion-Kelby Nsafoah Owusu
Hassly Joselin Pacheco Hernandez
Stephanie Lee Paendong
Sofia Eleanor Palacios
Emily Bridget Pascarelli
Jessica Elizabeth Patchan
Elizabeth Anne Pater
Jacob Thomas Pavlecka
Michael Dwayne Payne
Jasmin Charne Pearson
Maria Sara Pena Ventura
Yasleen Vanessa Pena Villegas
Collin James Peterson
Colin Elliott Phillips
Simran Phuyal
Sirash Phuyal
Juliana Chrisman Plescia
Asmita Poudel
Devin Connor Proctor
Hannah Joy Mwende Proctor
Kaitlyn Proctor
Gianella Masiel Quispe Vera
Samuel John Racine
Ifaz Rahaman
Fawad Bariek Rahimyar
Niloufar Rahmantaj Arabi
Emily Marie Railey
Chistian Armando Ramirez Benitez
Zaid Rabah Raoof
Muhammad Abdur Rasheed
Lilian Esmeralda Rauda
Frederick Rautenbach
Leslie Nataly Recinos-Quinteros
Kyjahne Reid
Alexander William Renner
Bastian Alexander Retamal-Flores
Yaquelin Elizabeth Reyes Rivas
Yusuf Michael Richardson
Austin Edmund Rider
Christian Edward Rios
Ronal De Jesus Rivas-Maradiaga
Kelley Rivera
Selena Abigail Rivera-Aviles
Thomas Wesley Rockett
Joshua Yohany Rodas
Sara Maria Rodgrigues
Andrew Mauricio Rodriguez
Antonio Ismael Rodriguez
Karen Stephanie Rodriguez Abrego
Dania Dominga Rodriguez Menjivar
Dariell Eliahn Rojas
Lexia Sarah Rowley
Setareh Zahar Royeen
Jared Nathaniel Rubin
Karebe Raissa Ines Rurangwa
Theodore Castelli Ryan
Brian Alexander Salmeron
Larisa Jasmine Sanabria
Bonnie Elizabeth Sasseen
Thomas Benjamin Schmitt
Ashley Jeanne Schnarrs
Jimmy Sejas
Phillip Austen Seng
Norwin Antonio Sevilla Mejia
Charlie Tong Shen
Christian Andrew Sheppard
Madison Taylor Short
Boaz Timothy Shull
Christopher James Shumpert
Raihan Siddiqui
Emily Claire Smallwood
Jacob Douglas Smith
Christina Marie Sneed
Rebekah Marie Soliday
Megan Eileen Spiewak
Amy Nicole Spohn
Emily Diane Stanley
Noah Jackson Starinieri
Malorie Paige Stewart
Taylor Hannah Stone
Adam Walter Stueve
Karishma Surana
Wahab Saqib Syed
Edward Jesse Taylor
Maricruz Tellez Casildo
Zachary Michael Tershak
Mirna del Carmen Torres
James Everett Tourtellotte IV
Khoi Pham Dang Tran
Tu Pham Cam Truong
Alayna Rose Umana
Madhu Malavalli Umashankar
Tyler Andrew Urban
Bao Hung Dinh Van
Jonathan Paul Van Camp
Charles Louise Arojado Vance
Jocelyne Daniela Vasquez
Joshue David Vasquez
Daniel Kirk Vedova
Keily Beatriz Vega
Steve Orlando Velasco
Kenny Ariel Velasquez-Hernandez
Aldo Elizar Veliz-Alvarado
Timothy James Viado
Daniel Christopher Vicinanzo
Moises Antonio Villacorta Guamuch
Matthew James Vollaro
Ryan Jeffrey Wait
Danielle Nikia Walker
Dominique Jazzmine Walker
Steven Wan
Xavier Johnathan Ward
Zouhir Warid
Jaylan Douglas Washington
Robert Anthony Wear
Edward Walter Williams
Matthew Lawrence Williams
Mary Nicole Wilson
Christopher Lee Wilson
Nathaniel Vincent Woycke
Jamie Anne Wright
Trevon Keith Wright
Julie Marie Wycoff
Joshua Ya
Mansur Ahmad Yahya
Veronica Yanez-Banos
Shelley Grace Yanosky
Muhammad Zubar Yasin
Laura Catherine Yesnik
Ermiyas Kifle Yilma
Almira Fauzia Hajrin Zaky
Ratib Shishir Zaman
Christina Maria Zerda