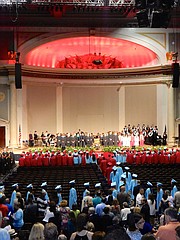 "Find your niche. Work hard. Have no regrets. Be nice." These are the words that Marshall High School's students live by.
On June 17, 393 Marshall "Statesman" of the Class 2015 filed into DAR Constitution Hall to the tune of "Pomp and Circumstance," accompanied by many whistles and frantic hand waving from families excited to see their graduate. "We have come a long way from awkward, dorky ninth graders," said class officer Sanam Analouei. "We have made history. We were the first class to win spirit week two years in a row. We have won 12 conference championships. We had the first ever student written play performed. And while we, the class of 2015, have had our trials and triumphs, history will continue after we leave this room. Because we are Statesman! We don't watch history unfold, we make it!"
This history-making student body at Marshall is unlike many others: its students represent 83 countries and 62 languages. The diversity that the school offers and welcomes is an important piece that makes it unique. "Each student who graced the hall was an important piece of the community," said class officer Pranav Parvatam. "You," he stated as he looked into his peers, "are why Marshall High School continues to be the best high school in the U.S."
Former principal Jay W. Pearson and winner of Principal of the Year in 2014 spoke to the graduates. He offered the wise principles of: "Find your niche. Work hard. Have no regrets. Be nice." These were words he spoke to the now graduates when they were freshmen, in hopes that it would provide a simple framework to guide them through high school. In his speech, he provided numerous ways in which, moving forward, graduates could take these words and apply them to their futures. The sea of red and blue erupted in cheers as he finished; the hall was filled with fond smiles and misty eyes.
Two students were then recognized as recipients of the "Statesman Award," given to only one male and one female within the entire graduating class. Winners Ethan Schaefer and Danica Mooney-Jones were called to the stage as their classmates cheered in support.