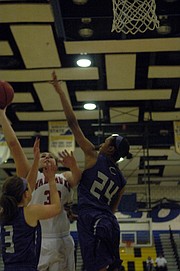 Kelly Koshuta's third trip to the region semifinals started with officials whistling the 6-foot-2 Madison senior for a foul 15 seconds into Tuesday's contest against Chantilly.
Minutes later, Koshuta, who will play collegiately at Virginia Tech, missed a pair of free throws.
"This is the third time in the semis for regionals," Koshuta said after the game, "and you always start off with some jitters, a little nervousness."
As the contest continued, Koshuta's nerves gave way to her powerful desire not to end her high school career by again falling one victory shy of reaching the state tournament.
After Chantilly pulled within four midway through the third quarter, Koshuta, the 6A North region Player of the Year, unleashed a display of dominance, scoring Madison's next 19 points while leading the Warhawks to a 58-47 victory in the 6A North region semifinals on March 3 at Robinson Secondary School.
Koshuta, the No. 32-ranked recruit in the nation according to ESPN.com, finished with 33 points and 18 rebounds. Madison earned a state berth and will face Oakton in the region championship game at 6 p.m. on Saturday at Robinson.
"I think it's just her leadership," Madison head coach Kirsten Stone said. "She wants it. She knows this is it --- she knows high school basketball is coming to an end. She likes to prove herself. She's a competitor."
Koshuta's performance helped Madison clear the semifinal hump. In 2012, when Koshuta was a freshman, the Warhawks lost to West Springfield in the region semis. In 2013, Koshuta missed the season with a torn ACL and Madison lost in the quarterfinals. Last year, Koshuta scored 39 points in the semifinals against Stonewall Jackson, but Wake Forest recruit Nicole Floyd led the Raiders to victory.
On Tuesday, Koshuta would not be denied. After a 7-0 Chantilly run cut the Madison lead to 35-31, Koshuta scored and was fouled. She converted the three-point play and gave Madison a 38-31 advantage with 3:05 left in the third quarter.
From that point, Koshuta took over. She scored in the paint. She scored in transition. She scored from the free-throw line.
"Getting the ball to Kelly, it's always a good thing," Madison sophomore point guard Morgan Simpson said. "She always helps us win when we need it and she came through tonight."
Koshuta scored 19 consecutive points for Madison over a stretch of more than 10 minutes. Junior guard Aidan McWeeney ended the streak when she knocked down a free throw with 30.4 seconds remaining in the fourth quarter.
"I was on tonight; I was feeling it," Koshuta said. "When a player is feeling it, no matter who it is on the team, you want to get her the ball. Tonight I was feeling it, so I told my teammates [to] give me the ball and I got the job done."
Junior guard Alexis Hermes scored 10 points for Madison. Simpson finished with nine points and McWeeney added six.
On Saturday, Madison (23-5) will face an Oakton team with a 26-1 record and a 25-game win streak. The Cougars are undefeated against in-state competition, including a 59-57 season-opening victory over Madison on Dec. 2.
Koshuta will battle against Oakton's 6-foot sophomore duo of Maddie Royle and Delaney Connolly.
"We played them at the beginning of the year," Koshuta said, "and, actually, offense was not a problem --- it was our defense."