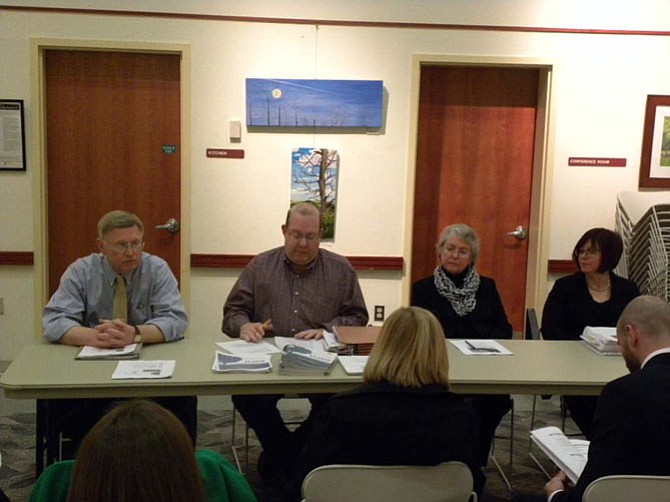 Supervisor John Foust (D-Dranesville), School Board member Jane Strauss, Kristen Michael from Fairfax County Public Schools and Joe Mondoro from the Fairfax County budget office met with 16 residents of Great Falls to discuss the advertised FY 2016 budget on a rainy and foggy day night at the Great Falls Library on Wednesday, March 4.
Mondoro said that the county is very reliant on real estate taxes--63.9 percent of the revenue generated from homeowners and businesses. However, office vacancy rates are highest on record since 1991 at 15.2 percent, which causes a decrease in value. Mondoro said that investors view the county as a good place to put money in, "but we do have a high vacancy problem," he said.
Michael pointed to the increasing number of students, 28.2 percent, who will be eligible for free or reduced-price lunch in 2016. She also stressed the increase in expenditure to offset for full-day Mondays and the growing size of classes.
Kris Gregory asked about the driving force for student enrollment growth. Strauss said that employment opportunities, birth rate and young families wanting to live closer to jobs are among many factors contributing to the increase.
Michael said that the FY 2016 budget is "realistic and balanced," but acknowledges that it does not fulfill all of the needs of FCPs but it addresses its priorities.
Bill Canis, of the Great Falls Citizens Association, asked if the county budget accounted for the resident curatorship program that was being studied by the County Planning and Zoning Historic Preservation. Mondor said that the process was started but is not in the FY 2016 budget.
Beverly Bradford pointed to the 93 county positions eliminated and the added 48. "What were the 93 position eliminated?" Mondoro said that the redundant positions were spread out all over agencies. "Every agency has some form of reduction" based on process and "employee suggestion," he said.
Foust said that he hoped to identify the community's priorities and get feedback with these meetings so they can be reflected in the budget.