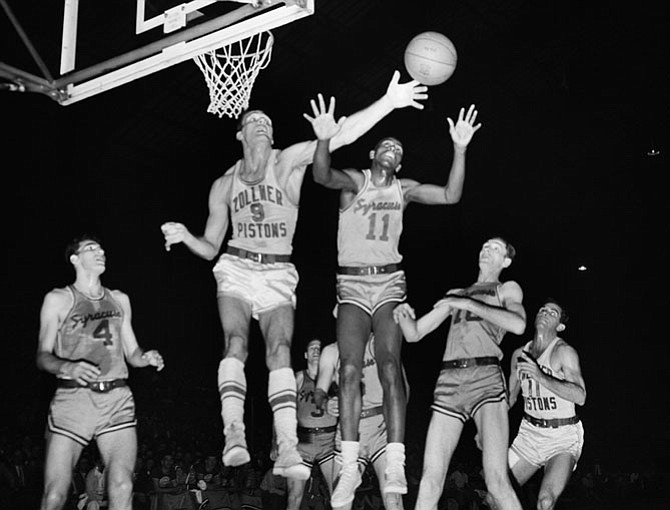 When Jackie Robinson broke baseball's color barrier in 1947, he did it under the glare of a national spotlight. Three years later, on a snowy evening in 1950, a similar but quieter revolution took place when a black man stepped onto a court in Rochester, N.Y., marking the first time an African American had played for an NBA team.
That man was Earl Lloyd.
"Before the game, I was terrified," Lloyd would recall in later years. "I had a fear of disappointing the people who depended on me. Luckily, letting people down was not a part of my DNA. I'm glad I was part of something that helped pave the way for others."
Lloyd's NBA debut passed without fanfare. The Rochester Democrat and Chronicle didn't mention Lloyd, playing for the Washington Capitols, in its game story of the Caps' 78-70 loss to the Rochester Royals. But it was a watershed moment in American history.
Just four years earlier, in 1946, the Alexandria native had graduated from the segregated Parker-Gray High School, where athletic teams had to travel to cities such as Roanoke, Charlottesville or Petersburg in an open-bed canvas truck filled with hay because there were no hotels or eating establishments available to African Americans.
"When I reflect back on Parker-Gray, I just shake my head," Lloyd said in an interview with Alexandrian Derrick Lyman. "I don't know how we did it. Athletically, we had nothing — no gymnasium, no baseball diamond, no football field. Except we had a magical coach, Louis Johnson. Man, he got it done."
Nicknamed "Big Cat," Lloyd would go on to become the first African American to play on an NBA championship team when his Syracuse Nationals defeated the Fort Wayne Pistons in 1955. In 1960, the Detroit Pistons took him on as the NBA's first black assistant coach and, later, he would be hired as the league's first African-American bench coach. In 1971, he became the NBA's fourth black head coach.
On Feb. 26, 2015, the pioneering NBA trailblazer and Hall of Famer died at his home in Crossville, Tenn. He was 86.
"He was an incredible human being," said Lloyd's nephew Reggie Lloyd. "He gave so much of himself to everyone. He had a torch to carry and he carried it well throughout his life."
Earl Francis Lloyd was born in Alexandria on April 3, 1928, the youngest of three sons born to Theodore Benjamin Lloyd and Daisy Mitchell Lloyd. He was raised on Montgomery Street in "the Berg" section of Alexandria and was a standout athlete at both Lyles-Crouch Elementary School and Parker-Gray High School. His father worked in a coal yard and his mother was a domestic for white
families.
As a high school basketball star, Lloyd was named to the All-South Atlantic Conference three times and the All-State Virginia Interscholastic Conference twice. Following his graduation from Parker-Gray, the 6'6" Lloyd attended West Virginia State College, where he led the school to two Central Intercollegiate Athletic Association Conference and Tournament Championships in 1948 and 1949. Lloyd was named All-Conference three times and was All-American twice. He received his B.S. degree in physical education in 1950.
Following his college graduation, Lloyd was drafted into the NBA by the Washington Capitols. After seven games, he was drafted into the Army during the Korean War. He returned to basketball in 1952 with the Syracuse Nationals.
In 1958, Lloyd moved to Detroit, where he played two seasons with the Pistons before retiring as a player and moving into coaching. In 2003, he was enshrined in the Basketball Hall of Fame.
"I'll represent a lot of people when I go in there," Lloyd said prior to his induction. "I was born in 1928 in Alexandria, Virginia – the cradle of segregation. That was a desolate time."
Lloyd credited Coach Johnson, his seventh grade teacher Helen Day and his parents, particularly his mother, for his success.
"I was a black baby whose life was a question mark," Lloyd said following his Hall of Fame induction ceremony. "A black baby who so easily could have been lost to the history books but whose life became an exclamation mark. But I stood on the shoulders of people like Helen Day and my mother. Without people like them we were destined to lose, to disappear one by one."
Harley "Skeeter" Swift, who also went on to play in the NBA from Alexandria, grew closer to Lloyd in later years.
"Earl was a very special man," Swift said from his home in Tennessee. "As we get older, the impact any of us may have had on others diminishes with time. But the legacy of Earl Lloyd should never be forgotten."
Lloyd was inducted into the Virginia Sports Hall of Fame in 1993 and the CIAA Hall of fame in 1998. In 2001, Alexandria celebrated Earl Lloyd Day and in 2007, the new basketball court at T.C. Williams High School was named in his honor.

"Whoever said you can't go home?" Lloyd said at the T.C. dedication. "I don't know what the hell they were talking about. Whenever I feel I need to be loved, I come here to Alexandria."
Lloyd was predeceased by his parents and older brothers Theodore and Ernest. He is survived by his wife Charlita, sons, Kevin, Kenneth and David, four grandchildren, and several nieces and nephews.
A memorial service celebrating the life of Earl Lloyd will be held Saturday, March 28, at 1 p.m. at Fairfield Glade First Baptist Church, 130 Towne Center Way, Crossville, Tenn.