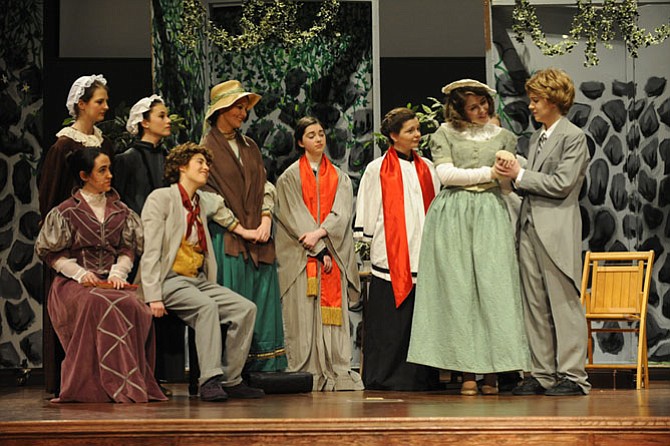 What happens when two women are engaged to the same man? Naturally, one can assume that things get dramatic. But when mistaken identities, good friends, and true love are involved, pandemonium erupts as Oscar Wilde's most beloved play, The Importance of Being Earnest, withstood the test of time and exuberantly came to life on the stage of Oakcrest High School.
Written in 1895 by the brilliantly witty Oscar Wilde, The Importance of Being Earnest had a highly anticipated premiere at the St. James's Theatre, and is considered Wilde's most popular work. The show has endured numerous stage adaptations, as well as three film adaptations from 1952 to 2011, proving the show to be just as big of a success in modern times as it was in Wilde's time.
John Worthing is an Englishman who absolutely despises the drudgery of conservative society in 1895, and invents a double life for himself where he is known as "John" in the country and "Earnest" in the city. In order to earn the approval of Lady Bracknell to become engaged to his love Gwendolyn, John must prove he has at least one living parent. Upon returning to the country, he finds that Algernon has proposed to young and beautiful Cecily Cardew, John's ward, while he is pretending to be John's younger brother "Earnest." As the two women believe they are engaged to the same man, chaos ensues as this tangled plot unfolds.
Being an all-girls school, the students at Oakcrest faced the daunting task of playing roles of both genders, which they believably executed through masculine mannerisms and thoughtful hair and makeup. The cast had animated energy that was infectious to watch, portrayed through their strong blocking and acting choices. Despite some issues with diction and enunciation, the students displayed an acute understanding of the classic text and superbly pushed through microphone issues.
As Algernon, Grace Pluta accurately maintained a masculine physique throughout, while utilizing grand gestures and dynamic vocal inflections to emphasize the character's mischievously quick wit. Algernon's playfulness was contrasted by the realistically uptight views of his good friend John Worthing, played by Jill Collins. Collins maintained a consistent English accent, and chose to use fewer, more deliberate arm movements to contrast further from her counterpart. John's relationship with Gwendolen Fairfax, played by Mary Cate Diedrich, was believable and tender, even though both roles were portrayed by female actors. Another notable performance was that of Sofia Lulli as the young and innocent Cecily Cardew. Lulli was unbelievably sweet, and proved her comedic talents when she reveals her fantasy three month engagement to "Earnest" (who is really Algernon under a false name), when they meet in the garden for the first time.
The set for the show was extremely versatile; it featured four navy blue panels embellished with gold fleur de lis, which were rotated to reveal a lush garden scene, complete with hand painted stones, climbing vines, and delicate flowers. Even though some props did not reflect the time period of the show, the cast utilized real food and drink onstage, including tea and cucumber finger sandwiches, popular snacks at the time.
"The truth is rarely pure and never simple." However, the cast of Oakcrest High School's The Importance of Being Earnest gave a pure performance of this complex classic, proving that age most definitely does not come before beauty.