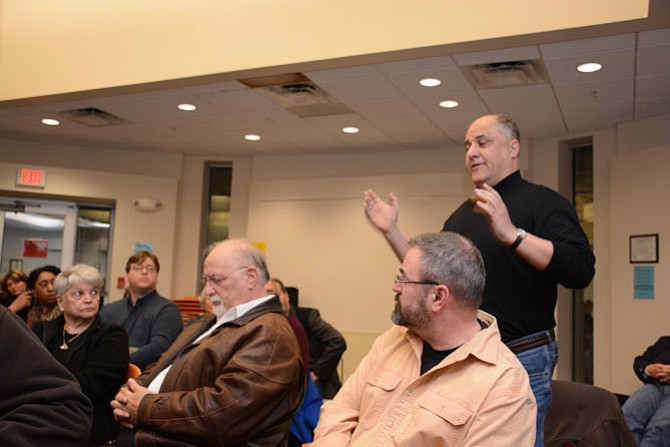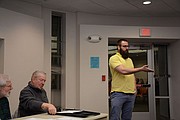 Michelle Evans, the new public affairs director for the Virginia Citizens Coalition for Police Accountability, explained to group members how important it is to like and share and Tweet stories online, related to their goal of increased transparency and accountability.
If they're not already on Twitter, "Find a 12-year-old, they'll set it up for you," she said.
Evans was introduced by the organization's executive director, Mount Vernon resident Nick Beltrante at a meeting on March 9 at the Martha Washington Library on Fort Hunt Road.
A WWII veteran and former police officer in Washington D.C., Beltrante was motivated to help found the coalition in spring 2010, after a Fairfax County Police officer killed David Masters Nov. 13, 2009, and was cleared.
Beltrante referenced the Masters case, the 2006 killing of Salvatore "Sal" Culosi Jr in Fair Oaks and the 2013 killing of Springfield resident John Geer, reminding those in attendance that those men who were shot and killed by Fairfax County Police officers were unarmed.
Culosi's parents Anita and Salvatore attended the meeting.
"We're praying for them; we know how they're getting jerked around," Anita Culosi commented on the more than a year the Geer family was kept without much information from Fairfax County on the details of Geer's death. "We didn't squeak enough. We were told to be patient."
Salvatore Culosi added that he applied to become a member of Fairfax County Board of Supervisors chairman Sharon Bulova's recently announced commission for reviewing police policies. He has yet to hear back.
"I'm interested in the subject matter of this group," Salvatore Culosi said about the Citizens Coalition. "It's brought back a lot of memories."
Beltrante was invited, and accepted a position on Bulova's commission. Though it isn't the citizen's complaint police oversight board he and the coalition envision, "It's a step in the right direction," he said.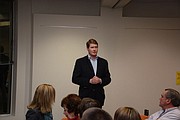 "To me there's a big question as to whether it's going to be effective and serve communities to have complete oversight of the police."
Beltrante cited an overabundance of law enforcement backgrounds on Bulova's commission, expecting that would "create some problems when subjects pertaining to the law enforcement community are brought to the floor."
Though the mostly full meeting room at the library was the best-attended coalition meeting to date, according to Beltrante, Evans said one of her short-term goals is engaging with much more of the community around the county through social media, particularly in an election year for county supervisors.
"We need to remind them they work for us," said Evans, "and remind citizens this is the status quo."
Mike Curtis of Manassas was voted in unanimously as the group's new vice president. A founder of the Northern Virginia Cop Block organization and Justice for John Geer Facebook group, Curtis echoed Evans' calls for reaching out further via the internet.
"How can we correct this? How can we restore the trust?" he said. "The county is taking a look at what we're saying and doing. Our next steps are getting more people involved in the community."
Curtis announced he had already met with Supervisor Pat Herrity (R-Springfield) and has meetings scheduled with supervisors Jeff McKay (D-Lee) and John Cook (R-Braddock).
Though no current supervisors attended the meeting, Mount Vernon District hopeful Jack Dobbyn was there. When asked by Beltrante to comment on the lack of a public safety committee meeting over the last two years — a committee chaired by current supervisor Gerry Hyland (D-Mount Vernon) — Dobbyn deferred answering directly, explaining he had been appointed by Hyland to serve on the county's human services council.
However in his remarks, Dobbyn was critical of how the Geer case and others have been handled.
"It's rather embarrassing for our county," he said. "We're better than this. We've failed the Culosi family, the Masters family, the Geer Family. I feel justice has not been served in these cases."
If elected, Dobbyn said, he would "fight tooth and nail for accountability."
For more information on the Virginia Citizens Coalition for Police Accountability, visit sites.google.com/a/virginiaccpa.org/www/.