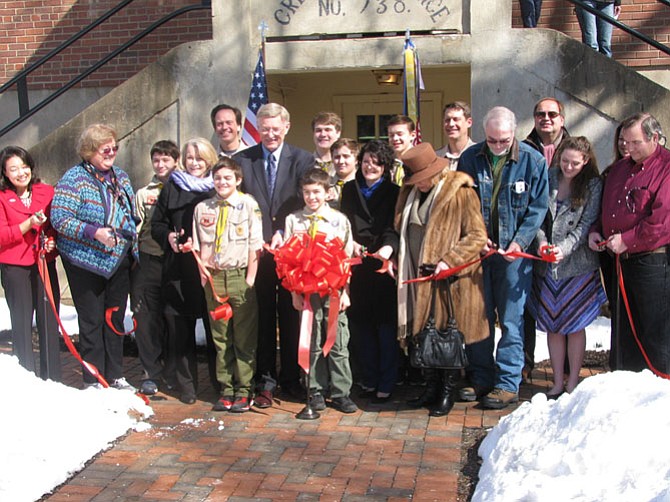 The 13 steps of The Grange blocked the historic community center from one of its original purposes "as a symbol of commitment to community involvement and progress."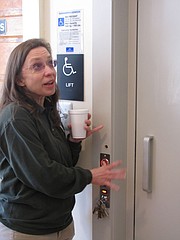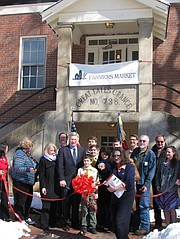 On Saturday, March 7, about 75 members of the community gathered to celebrate the renovations to the 1929 building and grounds that now make it accessible to all of Great Falls.
"For far too long, it was not accessible to our residents with disabilities and to our senior citizens," said Supervisor John Foust, who helped secure $350,000 for the $503,000 project from County carry-over funds in 2013. The Fairfax County Park Authority funded the balance of the project.
"Great Falls has many assets, but one thing it does not have is an official community center," said Foust. "The Grange is our de facto community center."
And Saturday, the community came to The Grange in a manner used for in the past by the original farmers that built the hall in the center of Great Falls.
Kathleen Murphy and Cindy Jordan brewed hot apple cider; the Difficult Run String Band filled the hall with banjo, bass, guitar and fiddle music; Adrian Bessenyei, 5, colored, when he wasn't helping his mother Marcela Bessenyei, one of the vendors with the Great Falls Community Farmers Market; and most all of the 75 patrons gathered and talked before and after the day's event.
"For a long time, it was just a building standing in the way. Now it's a focus point that can really benefit the community," said T.R. Cook, of the Great Falls Optimist Club.
"It's gone through ups and downs, but through all its history it has always been the center of the community. It can become that again," said Phil Pifer, of the Great Falls Citizens Association.
The Great Falls Grange Hall was the first grange hall built in Virginia and one of five granges built in Fairfax County, said Kathleen Murphy, president of the Great Falls Historical Society.
"Now that the Grange has been brought up to code the question is what are we going to do with it?" said Jorge Adeler. "I hope the effort won't stop here."
Of course, Adeler knows a gem when he sees one.
"The potential is extraordinary," he said. "The Grange could be the jewel of Great Falls."
He said the possible activities for youth, senior citizens, adults and the entire community are "endless."
The past decade, "the building has been completely underutilized," said Julie Casso, of Arts of Great Falls, formerly Great Falls Foundation for the Arts.
"It is time to begin to have conversations to bring our community center to life," said Kathleen Murphy, president of the Great Falls Historical Society and Great Falls Community Farmers Market.
Stay tuned, or get involved.
"We can do a lot more to bring the community together. Come join us," said Eric Knudsen, president of the Great Falls Citizens Association.