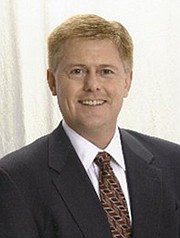 Supervisor John Cook (R-Braddock) was first elected to represent the Braddock district in a 2009 special election. He won his first full term in 2011 and on March 3 formally announced he would seek another term to sit on the Board of Supervisors.
His various additional positions include chair of the Virginia Railway Express Operations Board, representing the supervisors on the Domestic Violence Prevention Policy Coordinating Council and chair of the joint Infrastructure Finance Committee with the Fairfax County School Board. Cook also serves on the Northern Virginia Transportation Commission and Northern Virginia Regional Commission.
"I have worked diligently to ensure Braddock residents receive the effective and efficient government they deserve," Cook said in a statement, "to create an environment that encourages businesses to grow and develop, and to make our communities safer by working to put an end to neighborhood speeding and raising awareness on issues such as violence against women and the need for improved access to mental health treatment."
So far, Cook's challengers are retired U.S. Air Force veteran and accountant Carey Campbell running as an Independent, and former school board member Janet Oleszek running as a Democrat, who plans to announce her campaign Sunday March 22 at the Burke Commons community center.