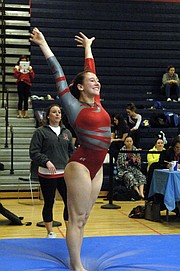 More than two weeks after helping the McLean gymnastics team win the 6A state championship, seniors Lizzy Brown-Kaiser and Jacqueline Green received some individual recognition.
Brown-Kaiser and Green each earned all-state honors in one event at the VHSL individual state meet on March 8 at Patriot High School. Brown-Kaiser placed sixth on beam with a score of 9.3, and Green finished fifth on floor with a score of 9.425.
"I am very satisfied with my beam performance," Brown-Kaiser wrote in an email. "It always feels good to get through a routine without a fall and it was a nice way to wrap up my beam career."
Brown-Kaiser competed in the all-around after qualifying with a top-four finish at regionals. She finished seventh with a score of 37.
Along with her beam result, Brown-Kaiser finished 12th on floor (9.25) 17th on vault (9.4) and tied for 12th on bars (9.05).
"I am really happy with my overall performance," Brown-Kaiser wrote. "This was one of my best meets of my personal high school career, so I'm thrilled that I could peak at my last competition."
Along with floor, Green also competed on vault (18th, 9.375) and bars (16th, 8.95).
Fairfax senior Rachel Barborek won the all-around title with a score of 38.7, becoming the first Fairfax County gymnast to accomplish the feat since Herndon's Maria Hayden in 2010. Prior to Hayden, the last Fairfax County gymnast to win the state all-around title was Lake Braddock's Christina Ghani in 2002.
Barborek finished first on bars, beam and floor.
Marshall's Morgan Stahl placed third in the all-around (37.625) and Washington-Lee's Sophie Hatcher finished fifth (37.325).
The individual competition was originally scheduled for Feb. 21, but was postponed three times due to inclement weather concerns. The meet was re-scheduled for Feb. 28, March 7 and finally March 8.
On Feb. 20, Brown-Kaiser and Green helped McLean win the 6A team title. The Highlanders, led by head coach Courtney Lesson, became the first Fairfax County team to win the title since Langley in 2004. McLean also captured Conference 6 and 6A North region championships during the season.
"I could not have asked for a more perfect season," Brown-Kaiser wrote. "Taking home the first-place trifecta as a team and performing one of my best individual meets at states is an incredible feeling. I am so proud of my team and very thankful for my amazing coach Courtney Lesson, friends, and family for their support and faith in the team throughout my final season. This was an extremely memorable year."