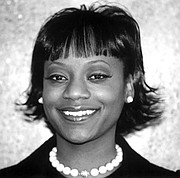 "I am hoping I can secure some type of writing residency or grant where I can just focus on that play and get a theater to commit to producing it."
— McKenya Dilworth
Alexandria resident and playwright McKenya Dilworth will be one step closer to realizing some of her biggest dreams on Sunday, March 29. Her dramatic work was selected to be performed as part of Negro Ensemble Company's (NEC) dramatic live reading fundraiser, "NEC's Year of the Woman: 2015 Reading Series." Two of Dilworth's plays will be presented to an interactive audience at the Signature Theatre in New York City.
The difference between the presentation of Dilworth's play and the productions that most people think of seeing in New York City is that with Dilworth's, all the audience members will be allowed to critique and offer feedback.
"The reading series is an opportunity for the NEC to listen to new works and works in progress that have not yet been produced," Dilworth said. "So the audience gets the opportunity to give feedback to the playwright. We edit accordingly, and do whatever we want with it. The audience gets to see the life of a play before it is produced."
New Jersey City University theater professor Anderson Johnson will direct the performers of Dilworth's plays. Dilworth herself will also be directing the same ensemble in a pre-reading performance piece.
What makes this opportunity a true prize for her is that some of the spectator-critics will be professionals. Charles Weldon, the NEC artistic director, and Lehman College professor Susan Watson Turner will host a feedback session with Dilworth.
"The best thing about it is that we have a talk back," Karen Brown, executive director of the NEC, said. "That is where we have really noted theater professionals who will give the playwright's feedback on their work."
Dilworth, a former teacher with both Duke Ellington School of the Arts and Alexandria City Public Schools, said she is excited for the opportunity to launch herself as an emerging playwright in New York City.
"Now that I am at the end of my residency, I am about to have my work read in New York," Dilworth said. "I am really hoping people will come and support me. Everyone watching can submit feedback in open form."
The Negro Ensemble Company produces shows with African American themes. Based in New York City, it has been in business for almost 50 years. From Broadway to Hollywood, the NEC's past and present actors and directors include some household names.
"We have been producing theatrical productions for 48 years now, since 1967," Brown said. "We have alumni that include Denzel Washington, Samuel L. Jackson and Glen Turnman. We have everybody except James Earl Jones and Morgan Freeman."
Dilworth grew up admiring both the plays and actors that NEC produced. When Dilworth's mother started a theater in her hometown of Gary, Ind., she put on a play written by NEC founder Douglas Turner Ward.
"It is my honor that the NEC has selected my work," Dilworth said. "The first play I wrote was fashioned after Douglas Turner Ward's work. He has been my main motivation. I was in the audience watching my mom put on his play, and that was my inspiration. I thought, 'I want to write satire.'"
This is the second year the NEC has presented a dramatic live reading submission opportunity to the general public. This year, Dilworth and Ntozake Shange, were selected among hundreds of playwright submissions. Playwrights JE Franklin and Sabura Rashid will also be part of the reading series.
"We have an annual reading series and this year we are celebrating contributions of African female playwrights to theater," Brown said. "One of the things we tried to do was select new works written by innovative new playwrights. We had a ton of submissions and McKenya was selected."
The NEC benefits in many ways by hosting the dramatic live Readings. Not only is the four-week event a fundraiser, but it is also a way for the theater company to look for potential new productions to pursue. Where the script solicitation called for unproduced, full-length plays, McKenya's two one-act plays were each compelling enough to fit the bill.
"We solicited scripts online, looking for African American female playwrights," Brown said. "They had to be unproduced, full-length plays. McKenya's work included two one-act plays, which worked as a presentation. The qualifications were that you could not be produced or well-known. We were looking for raw talent."
The works were selected by a selection panel of five respectable figures in the theater community. It was comprised of Brown, one playwright, an NEC director, and two NEC actors.
Franklin's and Rashid's productions, "Miss N'victas" and "Paradigm Shift," also unproduced, will be performed March 15 and March 22, respectively. The last selected writer, Shange, will see her play, "A Photograph: Lovers in Motion," performed on April 12.
On March 29, Dilworth's two one-act plays, "Contemporary Scenes of Old Age Ills" and "Kul'cha" will be performed. She said both of her plays deal with the plight of "marginalized and voiceless" African American women in society today.
"When I submitted the play, I could not decide which one to submit so I submitted two," Dilworth said. "When I was selected, they said they wanted to do both because, essentially, they are both one acts. In the first, 'Contemporary Scenes of Age Old Ills,' we are exploring race and sexism through the perspective of the 'other' with a reverse minstrel staging written as a satire."
Her second play, "Kul'cha," has been on her radar for less time, so it is less developed than "Contemporary Ills." She began writing it while living in New York City as a way to cope with the stress of living in the bustling city and not being able to thrive in the art world at the time.
"The main character is a woman, Mama Joe," Dilworth said. "She is a strong female and the women are empowered and they are the ones driving the action of the play. This one is about what is important to us and how we maintain our dignity while we are trying to achieve our dreams."
Dilworth is particularly excited to receive notes on "Kul'cha" because it is not as close to completion as "Contemporary Ills."
"For 'Kul'cha' specifically, I want to take feedback and complete it because it is going to be a full-length play," Dilworth said. "I am hoping I can secure some type of writing residency or grant where I can just focus on that play and get a theater to commit to producing it."
Dilworth will be coming full circle when she sets foot in New York City to receive noteworthy criticism on "Contemporary Ills." As a New York City resident in 2008, she said she worked hard to get people to read her play with no success.
"I began that play in 2008 when I just had moved to New York," Dilworth said. "It was a horrible failed attempt and I literally could not pay people to read my play. Once it was selected, it completed a nice seven-year cycle. It is some kind of validation."
Dilworth is ready to conquer New York City, and then whatever city's theater circuit will next pursue her work. First, though, she will be producing T.C. Williams High School's 2015 spring musical, 'The 25th Annual Putnam County Spelling Bee.'"
Dilworth, who has a long list of achievements and a number of academic accolades, is currently a doctoral candidate in the University of Phoenix's School of Advanced Studies, pursuing a degree in organizational management and leadership. She said she hopes to be done with her doctorate next year so that she can devote her time fully to playwriting. This whole process has made her excited for the opportunity to immerse herself in her craft.
"It feels like all of a sudden, but then I think back on it, and it has been years in the making," Dilworth said. "I want to remain humble and grateful."
To purchase tickets for any of the Sunday night dramatic live readings in this series, please visit www.necinc.org. Dilworth is also offering travel packages for those who would like to come see the plays. Contact her at 202-352-4864.