Three members of the T.C. Williams gymnastics team received the opportunity to compete in the VHSL individual state meet as alternates on March 8 at Patriot High School.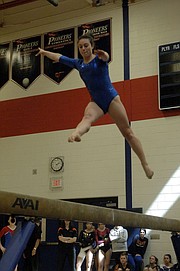 Grace Girard (beam), Cailyn Lager (vault, beam) and Jordan Mambert (bars) competed at states Sunday. Girard had the best finish of the trio, tying for 13th on beam with a score of 9.125.
"I found out I had a spot to compete about two weeks ago," Girard wrote in an email. "I was surprised and slightly overwhelmed at first because I had stopped practicing my high school [beam] routine (which is different from my club routine) since I thought the season was over. However, I was still very excited and honored that I was given the chance to compete and represent T.C.
"I was very proud of my beam routine … I am happy with what I did."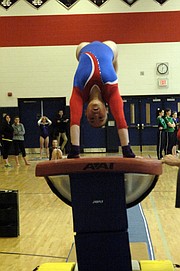 Lager finished 19th on vault (9.3) and tied for 30th on beam (8.525). Mambert finished 31st on bars (8.4).
Fairfax senior Rachel Barborek won the all-around title with a score of 38.7, including first-place finishes on bars, beam and floor. Barborek became the second Fairfax County gymnast to win the all-around state title since 2002, and the first since 2010.
Hickory's Haley Cole finished second in the all-around (38.3), including a first-place finish on vault. Marshall's Morgan Stahl placed third in the all-around (37.625), Cox's Mary Munitz was fourth (37.35) and Washington-Lee's Sophie Hatcher placed fifth (37.325).
Girard and Mambert are seniors and competed for T.C. Williams for the final time. Lager is a sophomore.
During her freshman year, Girard was the only member of the Titans gymnastics team. In the next two years, three of Girard's club (Arlington Aerials) teammates joined Girard in competing in high school gymnastics, giving T.C. Williams a complete team for the first time since the early 1980s. The Titans responded by winning the 2014 Conference 7 championship, led by then-senior Holland Cathey.
"The moment I will remember most is from [the Conference 7 meet in] 2014," Girard wrote. "The anticipation of hearing our name, TC Williams, announced as the first-place team was exhilarating. I will never forget the excitement, joy, and pride that had grown since the beginning of my high school career."
The individual state meet was originally scheduled for Feb. 21, but was postponed three times due to inclement weather concerns.