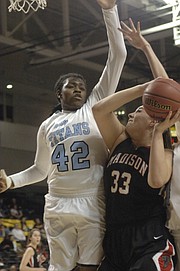 RICHMOND --- Madison senior Kelly Koshuta stepped to the free-throw line with 4.3 seconds remaining in regulation on Friday night, needing to make a pair to keep her high school career alive.
First attempt: good.
Second shot: good.
Koshuta's clutch moment at the charity stripe forced overtime against Cosby in the 6A state semifinals and was part of yet another big-time performance from the 6-foot-2 Virginia Tech signee. On this night, however, a double-double wasn't enough to lift the Madison girls' basketball team to victory.
Cosby opened overtime on a 7-0 run, outscored Madison 20-10 during the extra period and earned a berth in the state final with a 70-60 victory at VCU's Siegel Center.
Cosby will face Bethel in the 6A state championship game at 9 p.m. tonight.
Koshuta scored nine points in the fourth quarter, helping the Warhawks overcome a six-point deficit, and another five in overtime. She totaled 32 points on 13-of-29 shooting and grabbed 11 rebounds.
Koshuta finished her high school career second on Madison's all-time scoring list and first in rebounding. She missed her entire sophomore season with a torn ACL.
"Playing at Madison my entire high school career has been great," Koshuta said. "This season was definitely something different. We made it further than we have ever, so that was awesome. I'm definitely going to miss it a lot."
Koshuta battled in the paint against 6-foot-3 Cosby junior and Wake Forest commit Tyra Whitehead. Whitehead is the No. 31-ranked recruit in the nation for the class of 2016, according to ESPN.com, and while that might be intimidating to some, Koshuta, ESPN.com's No. 32-ranked player for he class of 2015, said she enjoys matchups with quality opponents.
"I love playing against good players because most games I get double teams and I can't really do what I usually do," Koshuta said. "I like it. I like going 1 on 1."
Cosby head coach Rachel Mead praised Koshuta.
"[Koshuta is] probably the best post player we've come across in high school," Mead said. "… Tyra was playing good defense 90 percent of the time, especially there at the end, and she was still scoring. It is what it is: she was a great ball player."
Whitehead finished with 17 points and 15 rebounds.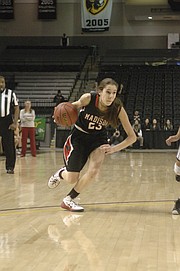 "To be honest, I thank her for it," Whitehead said about her matchup with Koshuta, "because it shows that there's somebody out there that's going to push me to my limits and I'm going to have to step up. She showed me a challenge that I needed moving forward."
Whitehead wasn't the Titans' only talented player. Junior guard Jocelyn Jones, a North Carolina commit ranked No. 41 in the class of 2016 by ESPN.com, finished with 28 points and 10 rebounds.
Jones scored the first four points of overtime.
"No. 14 (Jones) wasn't going to let up," Madison head coach Kirsten Stone said. "She wasn't going to have it taken away. She was tough."
Senior guard Ali Trani finished with 15 points and nine rebounds for Cosby.
Cosby out-rebounded Madison 48-29.
Junior guard Alexis Hermes finished with 10 points for Madison.
Cosby jumped out to a 13-2 advantage in the opening quarter and led 30-19 at halftime. Madison continued fighting, cutting the Titans' lead to 38-32 entering the fourth quarter before Hermes knocked down back-to-back 3-pointers to tie the score at 41 with 5:43 remaining in regulation.
The Warhawks grabbed their first lead when Koshuta's bucket with 4:06 left in regulation gave Madison a 45-43 advantage. The Warhawks held the lead for a couple minutes before Cosby's Jones tied the score at 46 with a jumper with less than 90 seconds remaining.
Madison started the season with three straight losses, including defeats against future region champions Oakton and Edison. The Warhawks responded with nine consecutive victories, went on to win the Conference 6 championship and finished runner-up in the 6A North region.
Madison ended the year with a 23-7 record.
"I'm truly proud of how far we've come," Hermes said. "I think people did have their doubts at the beginning of the season with those losses we came off of."
The Warhawks will lose two players to graduation --- Koshuta and guard Jana Tremba. Hermes, junior guard Aidan McWeeney and sophomore guard Morgan Simpson figure to be three of Madison's top players next season.
"Hopefully," Stone said, "they get a feel that they want to be [at the state tournament] more often than not."